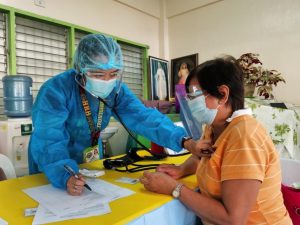 THE city government will start providing booster shots against COVID-19 to senior citizens on the Second Bayanihan Bakunahan that starts on December 15.
Dr. Michelle Schlosser, City COVID19 Task Force spokesperson, booster jabs for the elderly are available in a few vaccination sites during the three-day event.
"Naa na tay health districts nga open na for booster dose for A-2, sa atoang senior citizens," Schlosser said as senior citizens are only required to present their vaccination cards or certificates to avail of the shots.
For those who may have lost their certificates, they just need to visit the Vaccination Cluster Office at the Teen Center located near People's Park.
Booster shots are only made available in some sites because of logistical concerns. "Kinahanglan planuhon pagyud siya kay different lane for booster dose, the different lane for pediatric, different lane for our adult vaccinees for first and second dose… pero ubay-ubay na ang atong vaccination hubs karon nga naga-offer og booster dose for our senior citizen," she said.
The city will also open the drive-thru vaccination hubs throughout the Bayanihan Bakunahan, Schlosser added.