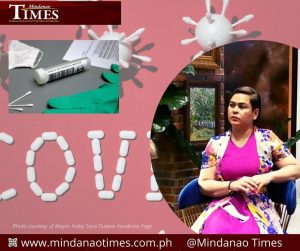 THE city government reported that it has vaccinated about 78% of its 1.299 million target to achieve herd immunity as of the first week of the month.
However, Mayor Sara last week said that she was not optimistic the city government would be able to achieve the target even as about 1.009 million were fully vaccinated. About 1.17 million received their first dose as of the first week of the month.
"Ang atoang target is 1,299,894. Assuming that we have 15 days nalang nabilin, ako I'm not optimistic makuha nato tong 100 plus thousand no in just 15 days. But we hope we'll be able to finish all the first doses of the 70 percent target herd immunity sa population by the year's end," the mayor said.
This developed as most of those who were infected with the various lately were those who have yet to get vaccinated, said Dr. Michelle Schlosser, COVID-19 Task Force spokesperson.  
"A lot of our cases are actually mild. From November 28 to December 4, I've mentioned before, weekly among consolidation, most of them are unvaccinated. Actually, 100% of them na nagkaroon ng COVID are actually unvaccinated," she said.
The good thing is that the positivity rate was at a low of 0.4%, way lower than the ideal rate set by the World Health Organization at 5. "This is good news kay atong positivity rate nag-pabilin gihapon sa less than one percent or to be specific, 0.4 percent so even with the number of swabees nato, gamay ra gyud atong cases," Schlosser said.