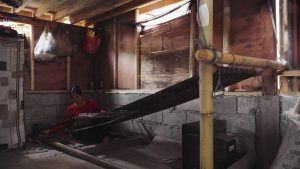 by Jean Claire Dy.
As the pandemic hits the Philippines, the T'boli weavers from Lake Sebu struggle to prevent their community's threads from slowly unraveling.
In the quiet community of Lassiwai in the Municipality of Lake Sebu, South Cotabato, Jenita Eko, leader of the Lake Sebu Indigenous Women's Weavers Association, Incorporated (LASIWWAI), wearing her colorful traditional Kegal T'boli attire woven by generations of women, stands on her land overlooking the two lakes of T'boli town. She recites a poem she wrote about the pandemic, which she wrote during a writing workshop: "While everyone is concerned, busy gathering only canned goods earned, we the indigenous are poor. Farming is our only hope, no delusions of grandeur. Where are we the natives, now?" There is no help, and the government cannot promise…
The bells on her traditional belt, or hilet lemimet, jingle to a tune akin to the music of her tribe as she moves around her. "I wouldn't survive if I had no land to farm," she says as she waves her arms to show her space, the bells jingling along with her arms. "I'm trying to encourage our female weavers to embrace farming because their livelihood has been affected by this pandemic. The orders aren't as many as they were before COVID-19. "
For more than ten years, Jenita has been the group's leader along with Jelly Escalorte, a female pastor. They both created a team of almost a hundred women to promote empowerment and gender equality in their community. At 44, Jenita stands taller than expected, diminutive yet confident in her stance. Her round face, framing her expressive almond eyes and button, shows a tinge of defiance when she recounts the time she was red-tagged for delivering relief goods to other T'boli families in the mountains when the lockdowns that happened in 2020 in the country were also imposed in their municipality. 
I was even told that I was on the list of suspected communists in the area. And someone told me I was going to be assassinated, "Jenita shares." Although no one from the police station or the military came to look for her in her house or in the LASSIWAI compound, she still feared for her life, so she asked for a friend's help. "I had to lay low for a while because I was a bit scared." However, fear didn't stop her from helping. "If there was no one who could help their community, then they would suffer," she says.
The Threat of Harsh Weather
The pandemic has affected people's lives and businesses from the global to the regional levels. In the Philippines, micro, small, and medium enterprises (MSMEs) are the backbone of the economy. In an Asian Development Bank (ADB) study published in 2021, MSMEs accounted for 99.5% of all enterprises and employed 63.2% of the labor force as of the end of 2018. However, according to a column by Bernardo Villegas, due to COVID-19 restrictions, MSMEs faced delays in the delivery of products and services. An average of 73.1% of them were forced to close down in the weeks after the lockdown in 2020. This goes to show that they are vulnerable to the crises brought about by the country's COVID-19 response. Even in non-crisis periods, MSME access to finance is limited.So, the pandemic, especially a prolonged one, will make it more difficult for them to raise funds and survive its aftermath.
The ADB study concludes that the "COVID-19 pandemic and lockdown measures created two streams of business clusters—contracting firm groups that were devastated by the lockdown and those that benefited from the lockdown." It also demonstrates that MSMEs were the ones who suffered the most and profited the most from this policy.It further found that education, construction, accommodation and food services (including tourism) were the hardest hit, while electricity and energy, as well as information and communication technology (ICT), fared better.
As Lake Sebu Municipal Tourism Officer Jennifer Tupas reveals, like most MSMEs across the country, the T'boli weaver groups of Lake Sebu were not spared by the harsh realities of the pandemic, aside from the local resorts in the area. She explains that "since the lockdown, domestic tourism has slowed down." Most weavers rely on tourists to buy their products, so fewer tourists means less income for the weavers. "
In one of the stages of the weaving process of T'boli t'nalak textiles, abaca fibers are harvested, hung to dry, and then dyed based on the pattern taught by the weaver. The strings are then attached to a backstrap loom to be woven into textiles. T'boli weavers usually weave in the early morning or at night because the harsh sunlight during the day causes the fiber to become brittle.
The fragility of the fibers when exposed to unfavorable weather is similar to how the LASSIWAI weaving business has become at risk. Jenita Eko expresses that the COVID-19 pandemic has affected their weaving business, which is the only livelihood for the women in her area, thus leaving her and her fellow artisans struggling to keep their community afloat.
Most of our weavers are grandmothers, single mothers, and housewives who rely on weaving as their source of income, Jenita says. "I created this association so that they would be financially empowered as women. But since the pandemic, we have had to close the weaving center in Lassiwai because the orders have been few and far between. "
The Threads in a Warp
The warp is vertical yarns that are held in place during weaving and hold the design. The tension of the threads in a warp should be fairly tight. The warp holding the design in place is similar to how financial support keeps the women of LASSIWAI's weaving business afloat. And just like the tightness of the threads, the T'boli women should also have this sense of financial security. 
A 37-year-old single mother who is also a weaving member of LASSIWAI, Alma Remedios, reveals that the pandemic has made her life difficult because of fewer orders for her weaves. "I can say this enterprise has helped my life in so many ways. I am a single mother, so I'm the sole breadwinner in my family and I have to take care of my child, "she says. "I relied solely on the sale of the weaving business. But I know there are other ways to survive as well.
However, the pandemic affected all of the municipalities. According to Municipal Information Office Christopher Ofong, as of November 2201, a total of 544 COVID cases are on record in South Cotabato. But Lake Sebu, however, has the lowest number of cases among the municipalities, Ofong says. He further confirms the tourism officer's statements that because of the lockdowns, there were closures of multiple businesses, including tourism-related establishments. 
Contrary to what Jenita Eko wrote in her poem, Ofong maintains that the mayor's office has a clear pandemic response. "We have provided relief assistance to communities when lockdowns happen. And even now, when things have eased up, "Ofong says "We even gave assistance to weavers because their businesses were affected." But he didn't, however, reveal whether there was a government stimulus fund for T'boli weavers in Lake Sebu. "Our responses are similar to what other LGUs are doing. The mayor's office is very helpful. Even our disaster risk reduction management is working. "
Sitting in a gazebo made of bamboo in the LASSIWAI compound, Jelly Escalorte manages to smile even when she mentions that the kindergarten learning center they run and manage to provide basic education to young children and their mothers has been closed for a while due to the pandemic. "It is not yet allowed because of the health protocols," she says. I'm not sure how the children are doing now. I guess maybe next year we will find out if things go back to normal. Everything is uncertain. "
Jelly, who was born in Luzon but moved to Lake Sebu as a young teenager, has been the community pastor for years. She can now speak both Hiligaynon and the T'boli languages (the two most spoken languages in the area) fluently. In contrast to her friend Jenita, she is quieter and more cautious with her words at their first meeting. but eventually loosens up when asked about her plans for the months to come. "I think we have to diversify our enterprise to get on with the times. That's the reality, "she says. But I have hope because, as women, we are used to adversity and we always inherently have the capacity to adapt and find solutions.
Diversifying the Weft
Weft is the yarn used to create the design on the warp. Experimenting with the weft yarns allows one to see what style best fits their project. In the case of the LASSIWAI women, they took several steps towards their business's recovery. Jenita organized projects for women to improve their finances, such as partnering with the Assisi Foundation to venture back into agricultural activities to ensure that they have a stable income.
"The reality is that we don't know when this pandemic will be over, so I believe that T'boli women will have to return to the old ways, the more secure way, and that is farming," Jenita asserts. She then explains that while men are commonly viewed as having a more active role in farming in most communities, T'boli women are equally important. Most of us even do the planting. We grow rice, we harvest, we do almost everything. With the men's help, of course. "
Then, she and four other women weavers of LASSIWAI are currently devising a way to still sell their products through other platforms. They enrolled in a course on information technology to learn programming languages like Python and some content management systems, so they can probably build a website where they can sell their products. Or even just knowing how to use web technologies to perhaps let us get online jobs in the long run is a possibility, Jenita suggests. I mean, I am very proud of our heritage, but who says T'boli women are just weavers? We can have other roles as well.
According to the ADB study, Asian economies have slowly started moving towards the recovery stage in 2021. MSMEs are evolving under a new normal that necessitates a more contactless society, yet business and employment circumstances vary by company size. Another policy goal for MSMEs is to help them transition to digital transactions, as their conventional business model needs physical and human interaction between the customer and the seller. 
Work-from-home options have been introduced by MSMEs six months following the outbreak. A follow-up poll indicated that working capital shortfalls are on the rise, notwithstanding previous findings. But still, small and medium-sized businesses (SMEs) are increasingly relying on the government for more financial help. 
The authors of the study opine that the "COVID-19 containment will continue into 2021. Given the different abilities of MSMEs to adjust by firm size, the government could pay more attention to a phased approach and differentiate policy measures by firm size and sector. Now is the time to consider an optimal approach that offers targeted assistance yet ensures fiscal sustainability in a post-COVID-19 environment.
Shining through
It takes a long time to weave. An experienced weaver might spend months working on one piece of cloth. A huge cowrie shell is used towards the end of the weaving process in order to bring out the textile's sheen.
It will take a while for the T'boli weaving community to recover from the effects of the pandemic. Jelly observes that she has seen this as a reality for more than three years, but she is not losing all hope. "We still have orders now." "The pandemic has affected the world, so of course, our foreign customers are not sending in the orders as often as they used to," she says. "But there are still some clients, especially in France, who have ordered textiles." She reveals that the reason why her group is different is due to the fact that they have innovated with their designs. "We joined a workshop with a designer to make our designs a fusion of traditional and modern. We have to evolve.
Like the other women, Delia Lambong, a 47-year-old weaver, says that she is optimistic that things will turn for the better despite the pandemic. We believe in our leader, Jenita. She knows what she is doing. And I'm thankful to her for empowering us so we can survive on our own, she says. Currently, Delia's family has returned to farming, which she says has helped with their daily needs. 
According to Jocelyn Bayquin, despite the fact that lockdowns have been lifted in their municipality, COVID-19 cases in their community remain low."Under the leadership of our mayor, who listened to our needs, we were able to implement health protocols effectively so that resorts that are partners of the weaving businesses are now our last defense against community transmission," she says. "We follow the IATF's suggested protocols. But the resorts have been imposing their own protocols ever since they were allowed to re-open.
However, she reveals that their vaccine rollout, which used to be slow among senior citizens due to the rampancy of fake news and due to them being a highly tribal community, has improved during the past week. 
Despite the threat of the Delta variant, domestic tourism has slowly returned to Lake Sebu, which means there is still hope for recovery, as well as a better future for T'boli weavers. Jenita Eko agrees with this prognosis, but she is also continuing to be forward-thinking. "The only way for us to survive is to innovate and evolve," she says. 
Quietly, she turns to the scenery below the hill of her land. Her colorful traditional Kegal T'boli attire shines vividly in the heat of the sun as the bells on her hilet lemimet jingle. Ending her poem, she recites: "There is one dream I would like to achieve. Even though hope is so small to conceive, I look at the twinkling of the stars, hoping that we natives won't be scarred by the storm of COVID-19/Rushing like the wind."