THE national dish of the Philippines is reputedly the lechon. The name lechon was derived from the Spanish word meaning a "roasted suckling pig."  The lechon plays a big part in many special occasions, holidays and celebrations like Christmas and the New Year among Pinoys.  The word lechon, though, has come to refer to roasted pigs in general.
     A cochinillo is about a three-week-old to six-week-old piglet that is still being breast-fed by the time it is prepared for roasting.  The purely sow's milk diet of the piglet is what gives the cochinillo its distinct flavorful taste.  The cochinillo's roasted skin is golden brown and crispy; while its meat is so tender and truly mouthwatering.  Lechon de leche, on the other hand, is still a cochinillo but bigger in size as it is almost being weaned off from its mother pig's milk.  So if you want to eat the best lechon, choose the cochinillo.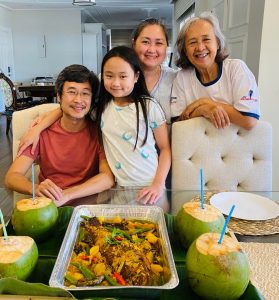 Making a name for itself owing to its primera clase de cochinillo is Sunshine Magdangal-Uyking's Farmhouse Cocina.  "Farmhouse Cocina is a home-based kitchen.  All the food that we cook here is from scratch and we use good combinations of dried and fresh herbs and other spices to enhance the flavor of our dishes especially our best-selling cochinillo.  We don't use MSG and the likes of it.  It is our personal preference that we only use natural ingredients as much as we possibly could.  Just like the way I feed my family, I pick the freshest and the best produce I can find in the market and I lovingly prepare and cook everything like I do at home for every order made," assured Sunshine as she continued, "I am keen on the quality control of the food that I serve.  I see to it that the delight and excitement will be experienced every time one orders at our Farmhouse Cocina.  I persevere in bringing joy to your tables.  This is our small way of spreading positivity in the midst of this pandemic we are facing.  The joy of serving you good, fresh, and delicious food is our everyday goal."
    Sunshine admits that she has no formal culinary training but just loves to cook.  She finds cooking therapeutic as it makes her feel happy, at peace, and relaxed when she is in the kitchen cooking.  "I did my research on how best to prepare for roasting a suckling piglet as this is a Pinoy favorite food.  We focused on the cochinillo as it is perfect for our current condition where people stay at home and celebrate and dine among themselves.  The size of the cochinillo is just right for a family plus it complements our other special culinary offering, the paella.  When we started introducing the cochinillo, we were truly surprised that there is considerable demand in Davao.  It must be because of the fact that chef Marvin Agustin's cochinillo (Cochi by Marvin) is presently so popular in Manila."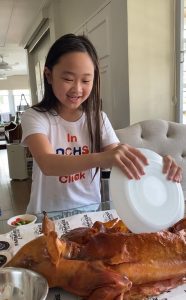 I haven't tried Marvin Agustin's cochinillo but I love the cochinillo of Alba Restaurante Espanol and Casa Armas Tapas Bar y Restaurante in Manila.  In Davao, it is definitely Sunshine's Farmhouse Cocina's butterflied cochinillo especially if laying on a bed of paella just like how they serve it in Macao's Portuguese restaurants that makes my mouth water.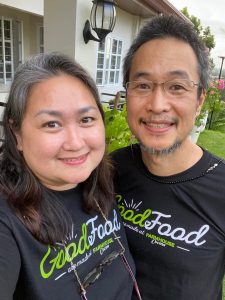 "Gratefulness and a piece of my heart go with every order of the cochinillo and the food Farmhouse Cocina serves.  Farmhouse Cocina's cochinillo is the best-tasting cochinillo you will ever find in Davao City.  The cochinillo's meat is tender, flavorful, juicy, and seasoned with love and of course, with natural ingredients.  The golden crispiest skin is just so crunchy you will surely love it.  The suckling pig is butterflied and rubbed with olive oil, thyme, garlic, rosemary, lemongrass, to mention some.  The experience you get when you use a plate to chop the glistening cochinillo will make you see how tender and how easily the meat falls apart together with the crackling sound of the crispy skin.  I assure you, chopping the cochinillo with a plate is insanely exciting.  My husband, John Uyking, and I want to serve Davaoenos the kind of food they will surely appreciate.  And this we will continue to do with integrity at our Farmhouse Cocina," promises Sunshine Magdangal-Uyking.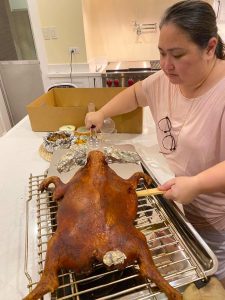 Make your celebrations merrier with a glistening cochinillo from Farmhouse Cocina.  For orders and inquiries, contact Farmhouse Cocina at 09173148503.