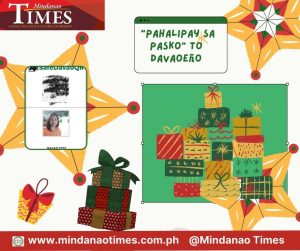 THE LOCAL government has begun yesterday its annual gift-giving "Pahalipay sa Pasko" to Davaoeños who are eligible to receive grocery packs through the SafeDavao QR or DQR.
Mayor Sara Duterte earlier announced in an interview on the Davao City Disaster Radio that this year's gift-giving will be through the SafeDavao QR, which has been used for COVID-19 contact tracing and booking for vaccination.
"For this year, ang tanan nga pahalipay is naa sa Safedavao QR (DQR). We are expecting since dugay na ta nagagamit og DQR – more than one-year na, ang mga tao kabalo na sila mogamit (This year all the Pahalipay will be through the SafeDavao QR (DQR). We are expecting that since we have been using the DQR – for more than one year already, people know how to use it)," she said.
Lemuel Ortonio, the head of the Davao City Human Resource and Management Office (HRMO), said that eligible grantees of the Pahalipay are Davaoeños 18 years old and above, regardless of vaccination status for as long as they are residents of Davao and not employees of the city government.
He said that each grocery pack worth P400 contains rice, canned goods, and spaghetti noodles.
"Ang himuon lang is to log-in sa DQR para makita asa i-claim ang supplies (What you need to do is to log in on DQR to know where they could claim the supplies)," Ortonio said.
The "Pahalipay" is made in partnership with the Gaisano Mall, NCCC, and Felcris, which provided the supplies for the gifts.
Those who will claim their Pahalipay has to personally go to the following branches:
Gmall: Azuela, Bajada, Toril and Quirino;
NCCC: Uyanguren, Victoria Plaza, Centerpoint Matina, Catalunan Grande, Toril Binugao, Buhangin, Panacan, and Calinan; and,
Felcris: Magsaysay, Sales, Quirino, Calinan, and Toril.
Ortonio said that the city has started importing the data on DQR to ensure the smooth flow of distribution which will end in January 2022.
He asked Davaoeños to be patient in receiving their grocery packs as they may do so until the end of January.
Ortonio said the use of the DQR system for the Pahalipay is purposely to spread out the receiving areas.
The activity is also closely coordinated with the Public Safety and Security Command Center to deploy personnel and secure the distribution area.
While the Pahalipay is for the general public, Ortonio said certain groups are regular beneficiaries such as the persons living with HIV-AIDs, indigents, barangay health nutrition scholars, and they may receive vouchers with higher value.