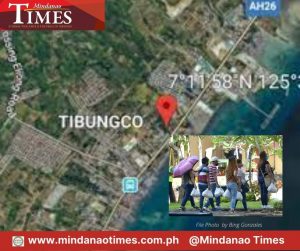 DISPLACED families dwelling on the coastline of Barangay Tibungco, whose houses were totally and partially damaged by huge waves brought about by the northeast monsoon, will receive food assistance from the city government.
City Social Welfare and Development Office (CSWDO) head, Atty. Marlisa Gallo, said on Tuesday that  about 24 houses were partially or totally damaged by the monsoon waves as Amihan continues to prevail across the country.
"Nakahatag nata food packs gahapon (We have distributed foodpacks yesterday). Today, we will give non-food assistance," Gallo said.
She added that they are now validating the number of affected families to ensure that everyone will be assisted.
Gallo said that they will likewise provide kitchen utensils, hygiene kits, and beddings for the victims.
Financial assistance will also be given pending an assessment.
On the other hand, Davao City Disaster Risk Reduction and Management Office (CDRRMO) Head Alfredo Baloran cautioned the residents living in coastal villages of this kind of incident and further reminded them to heed government advisories.
"Residents are always reminded to take precautionary measures and must adhere to the advisories from CDRRMO and BDRRMC (Barangay Disaster Risk and Reduction Management Council)," he said.
He added that no injuries were reported during the onslaught of the strong waves in Tibungco, and some residents have already returned to their respective homes.
Based on the weather forecast as of 4 p.m. on Dec. 7, Davao City will have cloudy skies with scattered rain showers and thunderstorms caused by localized thunderstorms. Davao City will also experience light to moderate winds brought by the Northeast to Northwest monsoon with slight to moderate seas.
The CDRRMO is constantly monitoring the status of the city's coastline through the Coastal Monitoring Station to alert residents of any danger.
In the CDRRMO Operation Center advisory for coastal barangays issued on Tuesday afternoon, barangay officials in coastal villages were advised to take precautionary measures as high tide conditions will occur at 7:28 PM (peak time) with a height of 1.84 m. (6.04 ft.) and light to moderate winds from North to Northwest are expected.
"The BDRRMCs (Barangay Disaster Risk Reduction and Management Council) and volunteers along Coastal Areas are advised to preposition resources, alert the communities, closely monitor the coastal areas, and conduct pre-emptive evacuation if necessary," he said.
The CDRRMC said that there are a total of 19 coastal barangays here. These are Barangay Binugao, Sirawan, Lizada, Daliao, Dumoy, Bago Aplaya, Talomo, Matina aplaya, Bucana,31-D, 21-C, 22-C,23-C, 27-C, Lon Garcia Sr., Gov. Vicente Duterte; Centro (San Juan), Lapu-lapu, Vicente Hizon, Pampanga, Sasa, Panacan, Ilang, Tibungco, Bunawan, and Lasang.