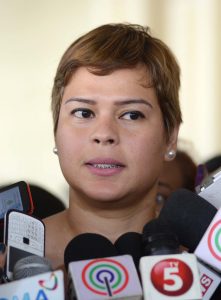 MAYOR Sara Duterte is not keen on imposing a "no vaccination, no entry policy" as this would severely affect the local economy.
In her weekly program on Davao City Disaster Radio, Duterte said, "Sa atoa wala pa ta sa ingon ana because it will severely affect the local economy (Here in Davao City, we do not have such rule because it will severely affect our local economy)," the mayor said.
The mayor noted that even at the start of the pandemic last year, the city did not require testing or vaccination requirements for land travel, except for air travelers who were required to present a valid negative RT-PCR test before boarding at the port of origin. 
She said the test before travel was required through the issuance of an executive order to stem the spread of the coronavirus in the city through air travel. Other than that, she said the city government did not require anything else.
"It will still be the same this year. We still need to balance our local economy and the movement of goods and people. So we do not have that discussion on no vaccination, no entry in Davao City," the mayor said.
The mayor, however, said the business establishments may implement guidelines for fully vaccinated individuals because they would have a legal basis.
Under Alert Level 2, some establishments and activities are allowed to operate or be undertaken at a maximum of 50 percent indoor venue capacity for fully vaccinated individuals and those below 18 years of age, even if unvaccinated, and 70 percent outdoor venue capacity.
Recall that Duterte, in her Oct. 25, 2021,  statement, said the city will "put on hold" the regulation for fully vaccinated individuals because vaccination cards can be easily faked. Instead, the city will wait until the records in VaxCertPh, the online database for vaccinated individuals, are ready.
"Vaccination card is only a reminder for the second dose and the details of the vaccine. It cannot be used to verify vaccination status," she said.
The city government is only short of 140,945 vaccinated individuals to reach herd immunity for the first dose. She hoped that the city will be able to reach its target number for herd immunity before the year ends.