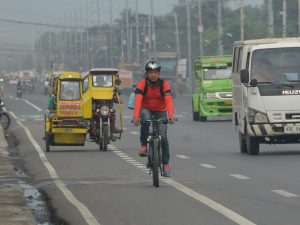 THE DEPARTMENT of Transportation (DOTr) is just waiting for the funding for the expansion of the 56.7-kilometer bike lane in Davao City, which seeks to further promote safe spaces for cyclists.
During the Sakay Ta Bai Program aired on Monday over the Davao City Disaster Radio, DOTr Assistant Secretary Mark Steven C. Pastor said that studies are now being done, with the Department of Public Works and Highways (DPWH) Davao, to determine the routes as part of the preparation while awaiting the budget for the project.
"I'm also happy to tell you, should we get the funding by next year, we are already preparing the expansion of the bike lane for the city of Davao," Pastor said.
It can be recalled that on July 20, 2021, the 54.71-kilometer Metro Davao Bike Lane Network was inaugurated as part of the government's effort to promote sustainability through active mobility among Filipinos.
The bike lane network project was officially completed on June 30, 2021, which spans the city's 14 road sections. It features white and green pavement markings, signage, bollards, bike symbols, and concrete delineators to ensure the bikers' safety. It is also equipped with solar studs and bike racks for the comfort and convenience of bikers.
The project was funded under the Bayanihan to Recover as One Act of 2020 (Republic Act No. 11494), with a total allocation of P145.371 million. The completion of the project drew positive reception from Davaoeños and encouraged more people to explore cycling as a mode of transportation.
"It is designed in a way it will connect all the mostly dominated cyclists' areas in the city of Davao. This was in coordination with the local government unit and we were assisted and given direction by no less than Mayor Sara Duterte on how to approach the bike lanes," he said.
The coordination is meant to ensure that Davaoeño cyclists will be able to maximize the bike lanes and at the same time, make sure that it will not hamper the flow of traffic on the city's roads.
According to him, during the last senate hearing, they were already assured of funding for the project since active transportation is one of the national government's priorities amid the challenges brought about by the pandemic.
"What we can assure you is this is being carefully studied in the event that we will have funding for next year and it will be for the great benefit of the city of Davao and its residents," Pastor said.