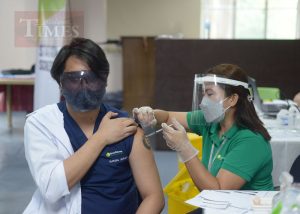 DAVAO CITY (MindaNews) – At least 8,300 health care workers in the city have received their booster shots against COVID-19 as of December 2, according to data released by the City Government of Davao on Saturday.
The city recorded a total of 8,352 health care workers belonging to priority group A1 who were administered their booster shots between November 15 and December 2, representing 14.39-percent of 58,026 fully vaccinated health care workers.
Medical workers prepare a dose of the Sinovac Biotech CoronaVac vaccine during the start of the Covid-19 vaccination program at the Southern Philippines Medical Center, Davao City on Friday, 5 Mar 2021. MindaNews file photo by MANMAN DEJETO
Dr. Michelle Schlosser, the spokesperson for Davao City COVID-19 Task Force, told Davao City Disaster Radio on Friday that the city currently administers booster doses to frontliners from hospitals, health care workers at district health offices, and frontliners from private clinics.
"As soon as the hospitals express their intent to start the rollout, the City Health Office will be providing … the necessary number of vaccines for them," she said.
The city recorded a total of 977,382 fully vaccinated individuals or 81.44% of the target to reach herd immunity.
The 1.2 million target comprises 70% of the city's total population.
According to DOH-Davao, the city recorded three new cases of COVID-19 as of December 5, bringing the total cases to 53,817 with 125 active, 51,909 recovered, and 1,783 dead.
She said the city is preparing for the rollout of booster doses for the adult population after the Department of Health (DOH) announced that fully vaccinated adults are eligible to receive booster shots starting December 3.
"In Davao City, we follow prioritization. We are prioritizing A1 first, then the A2, A3, and the rest of the priority groups will follow," she said.
Schlosser did not discuss the date for the start of booster doses for A2 or senior citizens, A3 or persons with comorbidities, A4 or essential workers, A5 or poor population, and the rest of the adult population.
She reminded the public that booster doses will be administered six months after receiving the second dose.
According to DOH, there should be an interval period of at least six months before booster doses can be to individuals vaccinated with Coronavac of Sinovac, AstraZeneca, Comirnaty of Pfizer-BioNTech, Moderna, and Sputnik V of Gamaleya, and at least three months of Janssen of Johnson & Johnson.
"Rest assured, we are already in the planning process for A2 and A3, and the rest of the priority groups. Our LGU is waiting for booster vaccines from the national government and the logistics that we will need," she added.
She said the city has enough vaccination hubs and manpower to sustain the inoculation drive.According to the city government website, there are a total of 25 operational vaccination hubs here. (Antonio L. Colina IV / MindaNews)