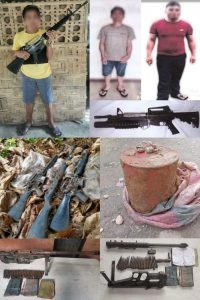 SEVEN high-powered firearms were recovered by the soldiers under the 701st Infantry Brigade following the tip from former rebels in separate operations conducted in Davao Oriental and Agusan del Sur on Dec. 3.
Capt. Mark Anthony Tito, the 10th Infantry Division Public Affairs Office (DPAO) chief, said 
three former rebels, together with 701st Infantry Brigade, 48th, 66th, 67th Battalions under the 10th Infantry Division, and other law enforcement agencies, led the troops during the recovery of four high-powered firearms and anti-personnel mine. 
They located and unearthed M14 rifles, M16 rifles, and a Bushmaster rifle in Sitio Magkilo, Barangay Marayag, Lupon, Davao Oriental.
Recently, a rebel surrendered to 48th IB and helped the troops capture a Caliber .50 Sniper rifle with 25 rounds of ammo and subversive documents in Sitio 1K, Barangay Bunawan Brooks, Bunawan, Agusan Del Sur. 
Meanwhile, one anti-personnel mine was recovered in the location of Sitio Bagong Silang, Barangay Bayugan 3, Rosario of the same province. 
Also present during the operation were the troops of the Regional Mobile Force Battalion XI, RPSB Cluster 8, Davao Oriental Police Provincial Office, and intel units of the Airforce.
Furthermore, an M16, M203 grenade launcher, Garand rifle, and other war materiel were recovered by the troops of the 73IB under the 1002nd Infantry Brigade, 102MICO, and K9 team at Sitio Kalnge, Barangay Tuyan, Malapatan, Sarangani Province on the same date. 
The arms cache was pinpointed by alias Uyo who surrendered to the troops of 73IB also bringing along with him M14 rifle last December 2. 
"We are thankful for the cooperation of former NPAs who truly abandoned the belief of communist armed struggle. Their efforts to assist our troops by providing information on the whereabouts of their firearms is a strong gesture that they no longer believe that violent arms struggle is the solution to their communities' problems. Our convergence efforts through the programs of National and Local Task Forces to End Local Communist Armed Conflict (ELCAC), progress and improvement of livelihood of the communities in former NPA guerilla bases are happening," Col. Oliver C. Maquiling, commander of the 701st IB, said.
On the other hand, Maj. Gen. Ernesto C. Torres Jr., commander of the 10th Infantry "Agila" Division, lauded the troops for their continuous efforts during the final push of the government to totally eradicate the NPA terrorists.
"The series of recovery of high-powered guns by our troops with the help of the rescued former rebels is a clear manifestation of a weakening leadership of the communist terrorist group. The peaceful means of surrender remain a priority," Torres said.