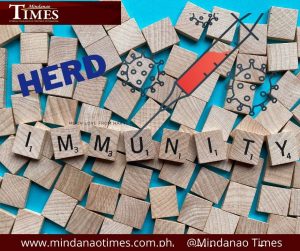 A TOTAL of 1,136,577 million individuals have already been vaccinated, translating to 87% of the target for the first dose as of Dec. 1. Meanwhile, the city also administered the second dose for the vaccine to 967,053 people.
Dr. Michelle Schlosser, COVID-19 Task Force spokesperson, said during the Bida Bakunado program of the 87.5 FM Davao City Disaster Radio on Dec. 3, that the three-day Bakunahan from Nov. 29 to Dec. 1, 2021, recorded a total of 75,476. 
"That means naa na ta sa 87 percent na first dose and roughly 75 percent sa atoang second dose. Overall, naa na ta sa level na duol na gyud nato makuha ang herd immunity (That means we are at 87 percent for the first dose and roughly 75 percent for our second dose. Overall, we are nearing our herd immunity)," she said.
The city health official said Davao City does not only target 70 percent of the population to achieve herd immunity goal. 
"We are aiming for 100 percent. As chairman of the COVID-19 Task Force in Davao, the mayor and the rest of the task force members and our City Health Office, ang goal gyud nato (our goal), headed by our vaccination cluster, is 100 percent," she said.
As of 2020, Davao City has a population of 1,825,450, according to the National Economic and Development Authority (Neda) in the region.
Davao City, according to her, will continue to participate in part two of the National Vaccination Day slated on Dec. 15 and 16. The vaccine cluster of the Davao COVID-19 Task Force is preparing for the second edition of the Bakunahan with the CHO and Department of Health XI.
Dr. Schlosser said the private sector will again be tapped, similar to the just-concluded nationwide massive vaccination drive. She said the private sector has been most helpful to the city's vaccination campaign. Establishments and business owners, she said, have been initiating how they can help in achieving herd immunity.
But Dr. Schlosser maintained, "With or without the National Vaccination Day, wala man gyud ta nagsara og vaccination hub. In fact, nagadungag ta and we are (exploring) different strategies as much as possible na epektibo. Ma-cover nato ang tanan tanan no, especially those atong vulnerable sector (With or without the National Vaccination Day, we have not closed vaccination hubs. We add and explore different strategies, as much as possible, that are effective. We can cover everybody, especially our vulnerable sector)."
The house-to-house and barangay mobile vaccinations will continue. Dialogues with tribal leaders in far-flung barangays will also continue to address the vaccine hesitancy among indigenous people (IP) communities. 
All vaccination hubs in the city now cater to walk-ins and for all priority groups. But the booster shots, in the meantime, are intended for those under the A1 priority group or the health care workers.