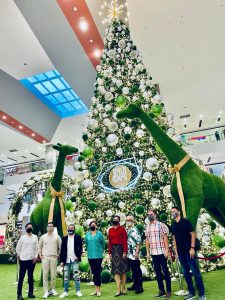 IN our country which prides itself for observing the world's longest Christmas celebration, the Christmas tree will always play a vital role as the iconic symbol of Christmas.  Gone are the days though when live trees such as spruce, pine, or fir were often used.  In this modern age of instant gratification, man-made PVC Christmas trees which come in varying shapes, sizes (SM Lanang Premier's towering Christmas tree is the tallest and biggest in Mindanao) and colours (take note of the appearance of pink-coloured Christmas trees this season!) are now used instead.  Yes, these Christmas tree replications still retain much of the Pinoys' Christmas spirit.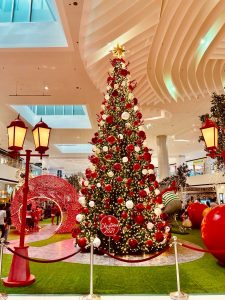 The modern Christmas tree, according to Wikipedia, is said to have originated during the Renaissance of early modern Germany with predecessors that can be traced to the 16th century when "devout Christians brought decorated trees into their homes."  However, according to the Encyclopaedia Britannica, the use of evergreen trees, wreaths, and garlands to symbolize eternal life was a custom of the ancient Egyptians, Chinese, and Hebrews.  "Tree worship was common among the pagan Europeans and survived their conversion to Christianity in the Scandinavian customs of decorating the house and barn with evergreens at the New Year to scare away the devil; and of setting up a tree for birds during Christmastime."
     According to my favourite modern historian, the Benedictine monk Ambeth Ocampo, the idea of the Christmas tree was first brought to the Philippines in 1886.  Our national hero, Jose Rizal, wrote a letter from Berlin in November 1886 to his sister Saturnina in Manila where he narrated that he attended religious services both in Catholic and Protestant churches.  He wrote, "Everything that can teach me something interests me so that I can bring to the Philippines the best that I find here."  Rizal also wrote about the Christmas traditions he experienced in Germany.  "There are some beautiful and grand German customs, like Christmas, which gives me pleasure to describe here…On Christmas eve, they bring from the forest a pine tree, and this tree is chosen because, besides being erect, it is the only tree that keeps its leaves during winter—I say not really leaves but a kind of needle.  It is decorated with tinsel, paper, lights, dolls, candy, fruits, dainties, etc…and at night time, it is shown to children, and around this tree the family celebrates Christmas."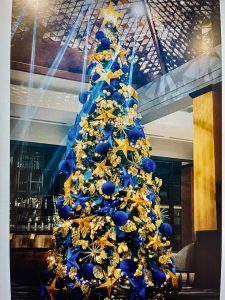 Filipinos, rich and poor alike, started putting up Christmas trees to celebrate the biggest holiday in the country only during the American colonial rule.  It has become a tradition that we are seriously observing to this day all over the archipelago.
    In ushering in the most wonderful time of the year with heightened and hopeful anticipation of the nativity of Jesus Christ, Davao City's premier hotels namely Waterfront Insular Hotel Davao, Dusit Thani Davao, Seda Abreeza and Acacia Hotel Davao plus malls like SM Lanang Premier and SM City-Davao lighted their well-conceptualized and themed Christmas trees last November.  Indeed, Davaoenos' eyes sparkled at the sight of the ornately decorated, well-lighted and towering Christmas trees enough for them to forget, even just momentarily, the difficulty we are facing with the Covid pandemic.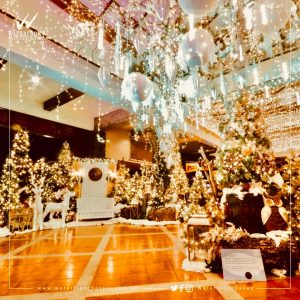 Waterfront Insular Hotel Davao led by the jolly resident GM Jennifer Romero has "Four Seasons of Christmas" for the iconic hotel's theme. The hotel lobby has four Christmas trees festively decorated as inspired by the seasons of Winter, Spring, Summer and Fall.  Dusit Thani's campaign of "Hopeful Holidays at Delightful Dusit" headed by the debonaire GM Christoph Kuch put up a royal Christmas tree with the dominant colours of blue and gold to symbolize warmth, hope and the healing feeling of the holiday season.  Acacia Hotel has chosen the colours of Autumn to make everyone "realize that there is hope in every downfall and that new beginnings are beautiful" as expressed by the genial Resident Manager Agot Serrano.  The elegant Seda Abreeza GM Ken Kapulong welcomed guests to the lighting of Seda's equally elegant Christmas tree in Red & Gold colours to inspire hope in these challenging times; and to encourage people to share their blessings.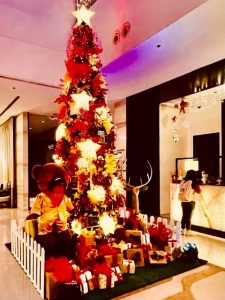 For a Sparkling SM Mallidays, SM Lanang Premier hoisted the tallest Christmas tree in the City to celebrate its "Christmas in the Wild" theme.  On the other hand, it's an "Enchanting Christmas" with the Shower of Lights over at SM City Davao's Annex.
     May this be a blessed December of peace, love, good health and healing for all of us.