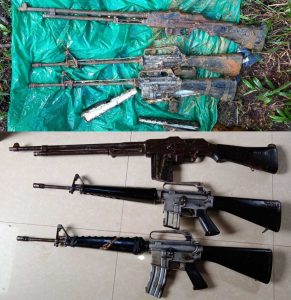 SOLDIERS of the 701st Infantry Brigade recovered thee three high-powered firearms of the New People's Army (NPA) in Barangay Maligaya, Rosario, Agusan del Sur on November 26, the military reported.
The firearms were a Browning Automatic Rifle (BAR) and two M16A1 rifles which former rebels who surrendered to the military claimed were part of the firearms of the movement.
LtGen. Greg T. Almerol, Commander of EastMinCom, said the cooperation of the former rebels for the recovery of the firearms is an indication that they are willing to help the government in the peace and development initiatives.
"The former communist terrorists confessed to our respective military units that their bitter and unfair experience in the hands of their leaders served as an awakening that prompted them to abandon their cause. They have now expressed strong determination to help us in ways that they know best and that is through the disclosure of information that has intel value," Almerol said. 
He said his unit has continued to enhance its ties with the former rebels even as he thanked the soldiers for their efforts.