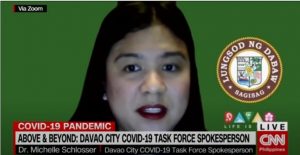 THE number of COVID-19 cases in the city has continued to wane as some of the barangays did not have a case last week.
Dr. Michelle Schlosser, COVID-19 Task Force spokesperson, said last week that many barangays did not have a case that there was not even a high-risk area.
On Saturday, the regional office of the Department of Health reported that the region had 33 new cases with 1,034 in active cases. Of the new cases, seven were from the city, five were from Davao de Oro, 11 from Davao del Norte, two from Davao del Sur, three from Davao Occidental and five from Davao Oriental.
Schlosser said of those barangays in the city with cases, many of them had one or two. "Wala na tay gina-lockdown nga establishments. Dako sad tag pasalamat no sa atong mga establishments diri sa Davao, cooperative kaayo ang mga establishment owners," Schlosser said.
She attributed this to the cooperation of the people who have "always been supportive of our guidelines and protocols, they follow it diligently."
However, she added that there is no reason to be complacent as she urged the people to continue following the minimum health standards like wearing of masks, washing of hands and physical distancing in public places.
She added that the people must also be careful when they visit public places, especially if they bring with them their unvaccinated children.