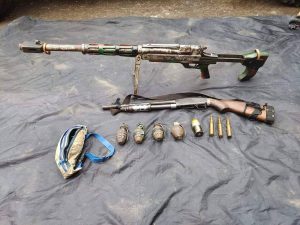 THE military reported that soldiers of 39th Infantry Battalion found a cache of firearms and explosive devices in Sitio Bonglawaan, Brgy Palo 19, Tampakan, South Cotabato on Nov. 27
The report said a former member of the New People's Army was key in the discovery of the firearms after surrendering to the unit, said Lieutenant Colonel Ezra Balagtey, unit commander.
Among the firearms were a 50-caliber machine gun, a shotgun, four grenades and ammunition for 40-mm grenade launcher. 
Balagtey said the discovery of the firearms indicated that the number of the rebels has continued to dwindle.
"This is a manifestation of a dwindling NPA force. They have reached the point that they have more firearms than personnel which means that they are hard up in their recruitment," he said as the unit brought the arms to its headquarters in Makilala, North Cotabato.