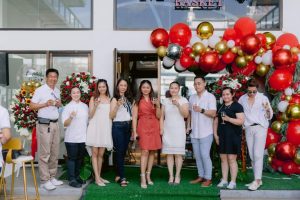 Arielle Louise M. Lu, a young lady we recently met through a friend, Diane Sia- Lucenara, tells the story of how her newly blessed store, The Mindanao Basket, was born. 
She calls it a "Pandemic Baby." The lockdown forced her to close her Aphroditea Milktea House and Aphrodite Slimming and Facial Spa in May 2020. But because of her faith in God and positive outlook in life, she was given an unexpected opportunity to start again.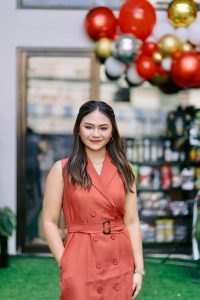 Arielle Lu is from Cotabato City and has relocated to Davao with her parents. In 2009, she studied at the Ateneo de Davao University. She has always wanted to be independent and be on her own and learned to get into business at a young age. And because she wanted to try to live a life of her own, she went to Xavier University in Cagayan de Oro City to earn a college degree and graduated Bachelor of Arts in Business Administration, Major in Marketing and Advertising in 2016.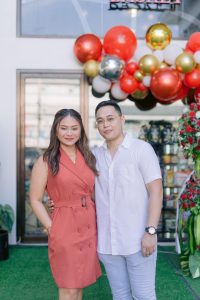 "My first business when I was still in college was a food Cart. I used to sell chicken pastil rice toppings and Japanese cakes at Xavier University while studying," she says.
Arielle embarked on a new career as a medical representative, practicing her job in Cebu City. She also ventured into online selling of bags and watches until she opened Aphrodite Milktea House and Aphrodite Slimming and Facial Spa with her sister, Geanne Claire Lu-Uy.
But her resilient nature became her asset to grab an opportunity offered by the supplier of VIC Pomelos in Davao City. VIC Farm had an oversupply of the fruits and had difficulty disposing of them. Her success became phenomenal, with orders ranging from two hundred kilos to four hundred per day! The demand even reached two tons which had to be shipped to Manila. Mangosteen was added to her products for shipment until her income grew and she could afford to invest in selling imported steaks.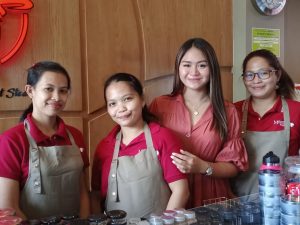 Customers would flock to her house or ask her to deliver. Her dad gave her an old freezer for her stocks. At first, her income provided for her daily needs and she added Manila Pasabuys, products which came from Manila, but which her customers wanted to buy from her. This became a "big hit, suddenly becoming viral and orders were overwhelming," she relates.
Aside from imported steaks, Arielle added imported seafood and eventually introduced the 'Sashimi Fix by The Mindanao Basket'.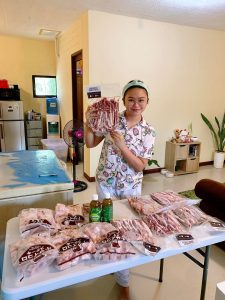 Arielle can hardly believe her success as she looks back on her efforts as a one-woman entrepreneur who has grown her business and was able to hire a staff of nine at her new location along Juna Avenue in Davao City. Misty–eyed and thankful for her success, she says she wants to share her blessings and provide jobs for others who are less fortunate with what she has achieved.
She attributes her success to her customers and family who helped her run her business. Her pillar of strength who was there to bring products to the airport and wait for the arrival of her stocks is her boyfriend, Jose Carmelo Avillon, who loaded the goods in his pick-up truck. Today, Arielle has her own pick-up truck and both of them are able to load the cargo as it arrives at the airport. She has bought additional freezers to accommodate the steaks that her customers have been ordering, to her surprise and in almost disbelief!
This 26-year-old young and attractive lady has not stopped thanking God for the blessings and wants everyone to share and enjoy her products for the family. Mindanao Basket has several branches all over Mindanao: Cotabato, Koronadal, Tagum, Mati, Gensan, Cagayan de Oro and Bukidnon.
The Mindanao Basket is recognized as a trendsetter because the "foodies" here in Davao have patronized whatever new products it brings from Manila or abroad. It supplies food items to restaurants, caterers, and stores all over Mindanao. It has the biggest selection of premium imported meats from Japan, the USA, Australia, Norway, and Brazil 
The phenomenal success achieved by Arielle Louise Lu inspires her to say that it is her "light and hope amidst this pandemic "