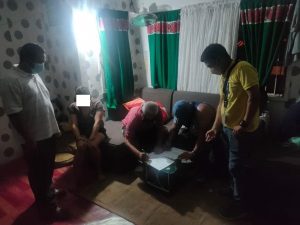 OPERATIVES of the Toril police arrested an alleged female drug dealer after more than P9,000 worth of shabu was seized from her in a buy-bust operation conducted at Piapi, Barangay 21-C, at 5 p.m. on Tuesday.
Maj. Michael Uyanguren, the Toril police chief, identified her as Raquel Buntay Jabines, 39, jobless, and a resident of Barangay 21-C.
Uyanguren said she was arrested after handing over a sachet of shabu to the police undercover. Recovered from her possession were small sachets believed to contain shabu. The confiscated drug items have an estimated weight of more or less 0.65 grams, with a street value of P9,100.    
The suspect is presently detained in the Toril Police Station for proper disposition, while the items were turned over to the crime laboratory for testing. Moreover, a case for violation of R.A 9165 (Comprehensive Dangerous Drugs Act of 2002) is being prepared against the suspect.