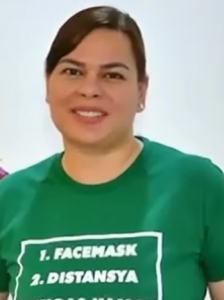 MAYOR Sara Duterte said that non-essential gatherings like Christmas parties remain prohibited in the city.
The mayor made the announcement during her program over the Davao City Disaster Radio (DCDR) on Monday.
In the recent meeting of the COVID-19 Task Force, the prevention and enforcement cluster cited that under Alert Level 2 in the city, parties are not included in the allowed Private Meetings, Incentives, Conferences, and Events (MICE).
"Ang sa private establishments, [they are] guided by IATF under Alert Level 2 and sa DTI. But from what I understand, sa prevention and enforcement cluster, dili apil ang parties sa mga allowed nga MICE events dinha sa mga establishments (For the private establishments, they are guided by the COVID-19 Inter-Agency Task Force (IATF) and the Department of Trade and Industry (DTI). But from what I understand, as per prevention and enforcement cluster, parties are not allowed in MICE even for private establishments)," Duterte said.
She clarified that these include hiring a venue and holding events in restaurants as they are still deemed "non-essential."
"We do not know kung mag Alert Level 1, magbag-o siya. But atoa sa Alert Level 2, dili na siya apil sa mga MICE events per the report of the prevention and enforcement group sa COVID-19 (We do not know if there will be changes once we are placed in Alert Level 1. But in our Alert Level 2, parties are not included in MICE events as per the report of the COVID-19 prevention and enforcement group)," the city mayor said.
Data from the Department of Health (DOH) Davao shows that as of Nov. 21, the city has only recorded three new cases of COVID-19, bringing its total number of active cases to 302.
With the drop in the number of COVID-19 cases here, she said that the city is ready if ever the national government will place it under Alert Level 1, which would mean less strict movement restrictions compared to Alert Level 2.
"Kung nasulod ta sa qualification ang atoang numbers diri sa City nasulod sa qualification as Alert level 1, we would gladly accept that napaghatag sa qualification (If we made it in the qualification, we would gladly accept it)," she said.
She stood firm that Executive Order No. 43, which prohibits non-essential events in all barangay, local and national government offices, including government-owned and controlled corporations (GOCCs), will stay as long as there is a pandemic.
Meanwhile, she urged Davaoeños to avoid social gatherings like parties and going to crowded places like malls as it poses a high risk of contracting the virus. 
On the other hand, City COVID-19 Task Force spokesperson, Dr. Michelle Schlosser, said that there will be another meeting to be conducted together with the COVID-19 Task Force to clarify if parties would be allowed or not with the new quarantine classification.