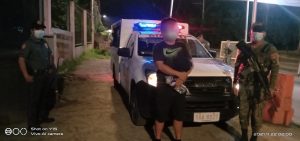 A 37-YEAR-OLD man from Surigao was arrested while passing through the AFP-PNP checkpoint in Lasang for possessing illegal firearms on Monday morning, Nov. 22.
Authorities identified him as Peter Cruiz Montañez, a resident of Adlay, Carrascal, Surigao del Sur.
The Task Force Davao, in coordination with Davao City Police Office (DCPO), apprehended Montañez while onboard a gray Toyota Fortuner traveling from Surigao City.
The authorities intercepted from the suspect one .45 caliber pistol with serial number 797307 and magazine loaded with seven live bullets.
The suspect and recovered items were immediately placed under the custody of the Bunawan Police Station for proper disposition.
Task Force Davao commander Col. Darren Comia lauded the troops for efficiently implementing the executive order on the culture of security.
The commander underscored that owning a gun entails loads of responsibilities, and this includes securing a registration and updated license.