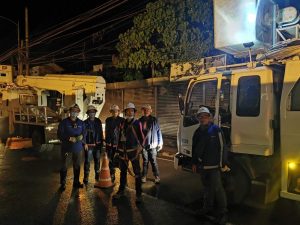 TWO evenings in the last week of October saw Davao Light and Power Co., Inc. (Davao Light) customers experiencing unplanned power outages due to bad weather, flooding, and a tarpaulin.
"We experienced various power interruptions during these two nights with causes ranging from heavy rains and flooding, with the latter, being unavoidable in view of safety. However, a wide area interruption on these two nights was caused by a billboard tarpaulin, which could have been entirely avoided," said Orville C. Lazaro, Davao Light Assistant Vice President for Engineering Operations.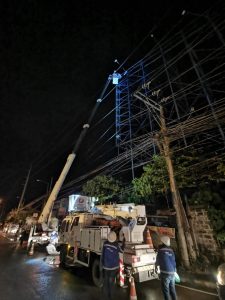 The wide-area power outage on the night of October 25 was attributed to a transient fault – a temporary disturbance along the lines. The National Grid Corporation of the Philippines (NGCP) conducted a survey of their transmission lines from New Loon in Mintal to Magtuod in Maa, to look for the cause of this outage but was not able to find any. The same thing happened with Davao Light's survey of its power distribution lines from Magtuod to the Bajada substation – no line problem was seen.
However, on the evening of October 27, another wide area interruption was experienced and this time, the cause was immediately found. A tarpaulin along Buhangin intersection was seen barely hanging with just one of its corners left attached to the billboard. It was seen swinging with the strong winds thereby repeatedly hitting Davao Light's 138 kV power line. The tarpaulin might have been dislodged from where it was attached because of the bad weather the past few days.
"We confirmed that the same advertising tarpaulin caused the outage on October 25. The outages during the two nights could have been avoided if not for the tarpaulin touching our lines. Our power lines are designed to automatically shut off power whenever something has come in contact with them, for example, a tree branch. This is a safety mechanism to protect our lines and substations from damage, and more importantly protect lives – this results in a power interruption," explained Lazaro.
Davao Light reminds the public of Republic Act No. 11361 or the Anti-Obstruction of Power Lines Act which ensures "uninterrupted conveyance of electricity from generating plants to end users, and protect the integrity and reliability of the country's transmission, sub-transmission, and distribution systems by keeping the land beneath, the air spaces surrounding, and the area traversed by power lines clear of dangerous obstructions."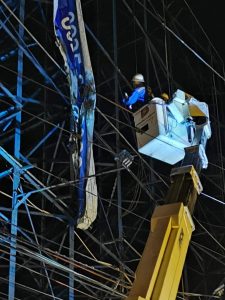 Lazaro further said, "we have been campaigning against power line obstructions and we reiterate it this time after the incident which caused inconveniences to many. This is not the first time that we experienced an outage with a tarpaulin as a cause. These tarpaulins have been giving us problems and we request the billboard owners to regularly inspect these tarpaulins which over time deteriorate. Being the owner of these structures, you have the responsibility to clear the area along the power lines. This is stated in Republic Act No.11361. Let's help each other."
Davao Light will continue to protect its lines and campaign against power line obstructions. The company furthermore asks the public to report any incident or situation such as kite flying, planting of tall trees, installation of billboard tarpaulins, and all other activities that will possibly lead to obstruction or pose hazards to power lines and the community.