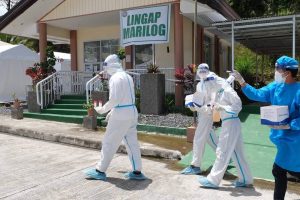 THE newly-inaugurated Marilog District Hospital has served about 10,000 patients since it started operating in February.
Gracing its inauguration on November 17, Mayor Sara Duterte said the city government will look at how to improve the services of the hospital.
"Una namong naistoryahan mas pakusgon nato ang atoang Philhealth, ang paggamit sa Philhealth dinhi ug masulod sya sa atoang health care nga balaod. Dako ang masulod nga kwarta sa reimbursements gikan sa kani nga pamaagi para masustain nato atoang operations," the mayor said.
The city government is also looking at pushing for its autonomy. "Kinahanglan nga dunay autonomy sa hospital para paspas sila makalihok. Maglisod man gud sila kung naka attach sila pirmi dinha sa City Mayor's Office o City Health Office. Kinahanglan naa silay autonomy diri nga magpadagan ug mag operate sa ilang ospital," the mayor added.
The city government has also been preparing the documents so that it can open and operating room for surgery and caesarian operation and other major services.
At present, the hospital provides services in outpatients, delivery, and admission, minor surgical procedures, animal bite treatment services, COVID-19-related services.
A first city-run infirmary, the hospital ahs 10 beds, 14 medical services and 73 members of human resources.