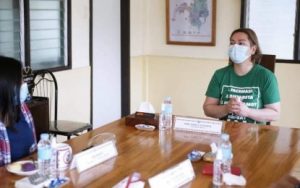 MAYOR Sara Duterte said she is preparing to deliver a valedictory address, instead of a state-of the city-address, following her filing of candidacy for Vice President.
Although her speech and the date of  delivery are being finalized, the mayor said the speech will contain the highlights of her administration. 
She admitted that the people may have continued to fear due to the impact of COVID-19, but she believed better days are ahead.
"I recently asked a retailer noh nga kumusta na sila (how they are doing). Because of alert level 3 and I'm sure because of alert level 2, they are doing steady daw, good but not on 2019 level. So what we want to do is go back to their level sa 2019 so that we can start from there going up again," she said, pointing out that the people are the strength of the city.
"In general, ang performance nato sa (the performance of the) City of Davao is really good. Before the pandemic, we're the premier city in Mindanao. Makigtigi ta sa mga dagkong lungsod didto sa Luzon ug sa Visayas," she said.
She thanked the residents for their confidence and cooperation. "As a Dabawenyo, duna koy bias. We are the best city and we are very good. Of course, naa ta sa 11, taga Davao man ta. Walay taga Davao mo-put down sa sarili nyang syudad," the mayor said.
The city was recently recognized as the Top Performing Local Government Unit in Real Property Tax Collection under the city category after collecting P2.26 billion in real property tax, or a 190% in collection efficiency.
The mayor initially sought for reelection, but eventually withdraw her certificate of candidacy and decided to seek the vice presidential even when her supporters were calling for her to run for President as surveys showed she was way ahead of everyone in the presidential race.