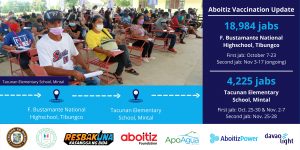 AS the Davao-based Aboitiz business units advance their way to their third vaccination leg, the Group is pleased to report that as of November 15, 23,209 jabs have been administered to local residents, 9,552 of which are second dose jabs. These vaccination drives were held at the Second and Third Districts, in partnership with the City Government of Davao, Department of Education Region XI, and Davao City Health Office.
The vaccination run is currently in its one month of operations and has gotten a daily average of 555 jabs. The first leg in Tibungco had 9,432 jabs for 1st dose and began accommodating the second dose last November 3. As for the second leg, the Tacunan Elementary School vaccination site successfully ended its first dose operations last November 7 with 4,225 jabs administered and will accommodate 2nd dose vaccination on November 25-28.
The Aboitiz Group is now less than 1,000 jabs away from reaching its target of 24,000 jabs and is optimistic that it will significantly surpass the target number of jabs in its third leg. Through the solid partnership with the public sector, the Aboitiz Group, composed of Aboitiz Foundation, Inc., Apo Agua Infrastructura, Inc., Davao Light and Power Co., Inc., Hedcor, Inc., and Therma South, Inc., are very grateful for having the noble opportunity to help the City reach its goal of herd immunity against the pandemic.