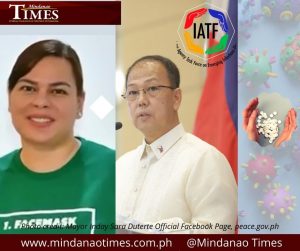 THE CITY government has started negotiating with a foreign drug maker for the supply of medicine against COVID-19.
Mayor Sara Duterte said Presidential Adviser on the Peace Process Carlito G. Galvez Jr., chief implementer of the national COVID-19 vaccination program, helped the city government to reach out to the company for the possibility of supplying the city with the medicine.
The mayor, in her Monday radio program, did not identify the company and the drug.
"We are now directly communicating with the distributor for the Philippines," as he thanked Galvez for his help..
Saying the medicine deal is "very promising," the mayor, however does not want to preempt the result of the negotiation.
"Dili lang usa ko muhatag og date kay basin ma-premature ang jubilation or celebration sa people of Davao. We are already talking to the distributor and positive ang response," she said, adding that the city government has also started reaching out to another company that claimed it also has a medicine against the virus.
One challenge, she added, is that the United States has not granted emergency use authorization to the company for its medicine.
The mayor even joked that the medicine may even arrive earlier than the vaccine that the city government bought.