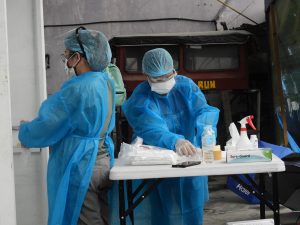 THE release of the results of the reverse transcription-polymerase chain reaction (RT-PCR) will be faster, a top official said.
Dr. Michelle Schlosser, City COVID-19 Task Force  spokesperson, said the city government has turned over to the Brokenshire Molecular Biology Laboratory two RT-PCR machines that it bought to ensure that more tests are processed.
"The more we have molecular labs the faster ang atong turn-around (time).. Before, naka-experience tag upat ka adlaw muabot pa ug isa ka semana, we will no longer have that kasi naa nata'y upat ka molecular lab," Schlosser said adding that the city government has also two other laboratories at the airport and the one in Los Amigos.
This developed as the national government has placed the Davao Region, including the city, under Alert Level 2. 
This was after it was monitored that the number of daily cases in the region has continued to decrease. On Saturday, there were 48 cases reported in the region with 19 of them from the city.
The city government has partnered with the Department of Health and the Brokenshire Integrated Health Ministries Inc. in the setting up of the Brokenshire Molecular Laboratory. Its two machines can process 600 swabs a day, while the laboratory is only waiting for the license for the operations of these two machines.
Also, the Southern Philippines Medical Center Molecular Laboratory has resumed its operations after it was repaired. "With this wala nay reason nga dili magpa-swab ang mga tao kay dali gyud kaayo mugawas ang results," she added.