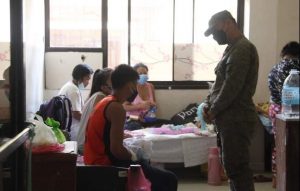 A former rebel delivered her firstborn safely at the Amas Provincial Hospital in Kidapawan City, North Cotabato on November 12.
The mother and her partner surrendered to North Cotabato Second District Rep. Rudy Caoagdan on October 6 as they were anticipating the birth of their first child.
Lieutenant Colonel Ezra Balagtey, 39th Infantry Battalion commander, said the couple and their baby have been provided with care.
Balagtey said the former rebels said they left the outlawed movement so that they can provide their baby with better lives.
They have been provided with food and other essentials so that they could start their new lives, the report added.The Provincial Social Welfare and Development Office of North Cotabato also paid the hospital bills.
The mother also thanked those who have helped them. "I cannot thank you enough for all the help you have given me for my healthy pregnancy and labor. I did not have any regrets surrendering for I know the government today has a big heart for the people like us," she said.