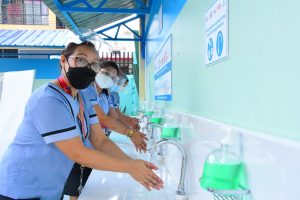 IN March of 2020, schools stopped holding face-to-face classes to ensure the safety of the school community and since then, transitioned to distance learning modalities.
More than a year after and as the Department of Education (DepEd) prepares for the resumption of face-to-face classes, the League of Corporate Foundations (LCF) launched LCFWinS Lingap Eskwela sa Pandemya program. This is a collaboration of corporations and corporate foundations in support of the WASH (WAter Sanitation and Hygiene) in Schools (WinS) Program of DepEd. LCF members collaborate to build handwashing facilities in public schools all over the country.
Davao Light and Power Co., Inc. (Davao Light) and its social development arm, the Aboitiz Foundation, Inc. who is an LCF member, donated two (2) units of 10-faucet foot pedal-operated hand hygiene facilities, one each to San Roque Central Elementary School (SRCES) and Davao City National High School (DCNHS). This is in support of the initiative of LCF and Manila Water Foundation.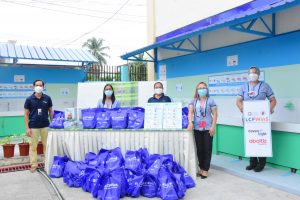 In his welcome remarks during the virtual turnover of the facilities, LCF Chairperson Sebastian C. Quiñones, Jr. shared that the LCFWinS Lingap Eskwela sa Pandemya Program is a "response to the achievement of the United Nations Sustainable Development Goals, namely SDG 6-Clean Water and Sanitation, SDG 3-Good Health and Well-Being, and SDG 4-Quality Education."
The initiative will provide access to clean water, basic sanitary hygiene supplies: hand soap, alcohol, toothbrush, toothpaste, and hand towel; information and education materials as well as the conduct of a virtual session to teach lessons on good hygiene behavior. These are some of the key practices to stop the spread of coronavirus and thus keep everyone safe and healthy.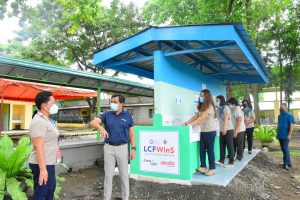 "Aside from wearing our face masks and shields when we are in public places, another element in the safety protocol is handwashing. It is very basic and should be a part of our daily routine to maintain sanitation and proper hygiene even when we are at home," said Davao Light President and COO Rodger S. Velasco in his speech during the October 29 virtual turnover ceremony.
Each facility is equipped with a soap dish, to promote handwashing with soap, and signages on the steps to proper handwashing, toothbrushing, and on COVID-19 precautionary measures. Hygiene kits were also provided, which contained hand soap, alcohol, toothbrush, toothpaste, and hand towel, for students to practice good hygiene behavior while learning at home.
"This is indeed a very timely initiative and collaboration. A call to many that during this time of pandemic, it is best to work hand in hand," added Velasco. Davao Light hopes to provide similar facilities to more schools in its franchise area to benefit many in the name of health and hygiene.