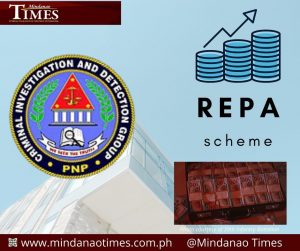 THE CRIMINAL and Investigation and Detection Group (CIDG) XI urged individuals to come to their office and file a complaint against Repa or Pera Paluwagan administrators following the recent apprehension of five alleged administrators.
In an interview yesterday at their office, CIDG XI chief Lt. Col. Dave Mejia, said more or less 25 individuals have filed a complaint at their office who joined the Repa scheme.
"Those who enter into this, they are all willing victims," he added.
On Nov. 5, five individuals who were reportedly receiving investors for Repa were arrested through an entrapment operation conducted by the members of CIDG XI along Ponce Street, Barangay 26-C.
The operation was conducted together with Davao City Anti-Scam Unit after the suspects accepted the cash of P650,000 for supposed investment in the pyramiding scheme.
They were identified as Silas Khadija Sabani, 25, Jorelyn Damih, 43 (mother of Khadija), Mahimod Damih, 46, Alhaber Damih, 19, and Amer Hadjinur, 42, all of Barangay 21-C.
"An investigation was conducted. so last Nov. 5 we conducted an entrapment with the P650,000," Mejia explained. "Their modus is that if you will give P650,000, it will grow to one million in 15 days, so the increase would be P350,000, so who would not be enticed with that?" 
Last Saturday, Nov 6, a case for violation of syndicated estafa, which is non-bailable, and violation of Section 28 of Securities and Exchange Commission were filed against them.
For now, they are under the custody of Sta. Ana police station.
Previously, the Securities and Exchange Commission warned the public that Repa Paluwagan does not appear as a registered corporation or partnership and it is not authorized to solicit investments from the public. The group has operations in Bohol, Davao, Bukidnon, and Cebu. 
Based on the said reports, the persons behind Repa Paluwagan, acting as administrators (admins) and sellers, communicate with their victim-buyers by contacting them through Facebook Messenger and offering them "limited slots" for investment. One may invest P50,000 promising a return of P20,000 or an equivalent of 40% in just two weeks. 
Slots for other investment packages being offered that came to the attention of the commission are, as follows: P1,000 to P2,500; P2,500 turns to P4,000; P5,500 turns to 7,000; P9,000  turns to P13,000, P14,000 turns to P25,000; P25,000 turns to P40,000; and P28,000 to P50,000 in a matter of weeks. 
For the information and guidance of the public, the Repa Paluwagan does not appear as a registered corporation or partnership.
Further, it is not authorized to solicit investments/placements from the public nor to issue investment contracts and other forms of securities since it has not secured prior registration and/or license from the commission as prescribed under sections 8 and 12 of the Securities Regulation Code.
The income generated by the company does not appear to come from legitimate business sources, but solely from the investments being paid by its current investors and by the newly recruited members. 
The operation is considered a Ponzi scheme, which is defined as an investment fraud that involves the payment of purported returns to existing investors from funds contributed by the new investors. They often recruit new investors by promising to invest their funds in opportunities claimed to generate high returns of investment.