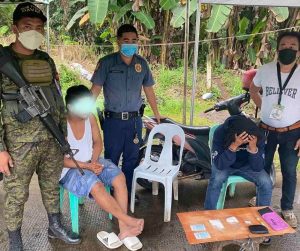 AUTHORITIES seized more than P600,000 worth of shabu from two alleged drug couriers at the joint AFP-PNP checkpoint in Sirawan, Toril on Tuesday, Nov. 9.
Capt. John Louie Dema-ala, Task Force Davao spokesperson, identified them as John Q. Mugat, 37, a resident of Alabel, Sarangani Province; and Kerr M. Romares, 21, a resident of Vincente Hizon, Sr. Street.
According to Dema-ala, the two were on board a yellow Elf Bongo bearing plate number MDQ 2650. They were supposed to enter the border checkpoint when the TF Davao personnel discovered three sachets of suspected drugs with an estimated street value of P648,000 from their possession. 
Apart from shabu, law enforcers also found drug paraphernalia and cash amounting to P16,400.
On the same day, a certain Nel Ian Magabulo Cloma, 42, a resident of 763-A Visayan Drive, DDF Village, in Barangay Mandug, was busted for possessing suspected marijuana at the Lasang checkpoint.
The authorities revealed that the suspect was a passenger of a passenger van traveling toward Davao City who was arrested for hiding a sachet of marijuana weighing around 2.48 grams with an estimated street value P297.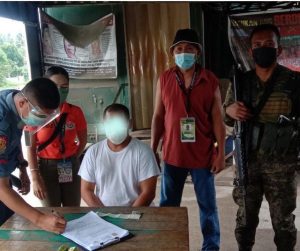 On the other hand, the TF Davao also apprehended Manuel Christopher Pantig Gillera, 20, a resident of 7744 Phase 4 Gamao Subdivision, Panabo City, Davao del Norte, as he was riding a passenger van bound for  Davao City.
The suspect was arrested for possessing a sachet of marijuana weighing around 16.18 grams with an estimated street value of P1,950 at the Lasang checkpoint at 10:30 a.m. 
Task Force Davao commander Col. Darren Comia salutes the troops for their alertness and diligence. He reminded the public to cooperate with the government and avoid these illegal activities.