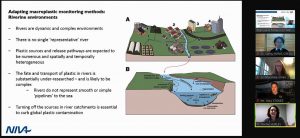 MANILA, PHILIPPINES – "Around 11 million tonnes of plastic enter our oceans yearly. This is equivalent to an entire garbage truck's worth of plastic every minute," said World Wide Fund for Nature (WWF) Global Plastics Policy Coordinator Mr. Huy Ho during a webinar on replicable models on marine plastic pollution monitoring held on 9 November 2021. "The economic damage of plastic to Earth's marine ecosystems is estimated at USD13 billion, severely affecting 1,500 species," Ho added.
Organized by Partnerships in Environmental Management for the Seas of East Asia (PEMSEA) Resource Facility under the ASEAN-Norwegian Cooperation Project on Local Capacity Building for Reducing Plastic Pollution in the ASEAN Region (ASEANO), the event highlighted regional efforts to stem the flow of plastic waste into our oceans.
"One of the main challenges for Asian countries is the prevalence of tingi culture, where people prefer to buy small, disposable goodie sachets instead of buying in bulk," explained Dr. Edwin Lineses of De La Salle University Dasmariñas (DLSU-D), Philippines.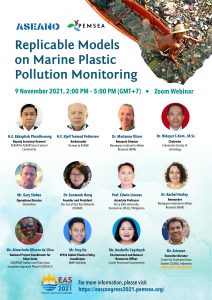 A 2004 study by Prahalad explained how sachets enabled the global poor to procure goods that well-off people consume, albeit in smaller amounts. This practice has spurred millions of tonnes of single use plastics that are choking Asia's rivers and coasts. The global COVID-19 pandemic has exacerbated the problem. "In 2020, the Philippines alone was using an estimated 49 million disposable facemasks daily," added Lineses.
The ASEANO project aims to develop and promote sound and sustainable measures to reduce the impacts of plastic pollution and their implications on socioeconomic development and the environment. The project focuses on the city or municipal level, with Cavite's Imus River and Indonesia's Citarum River as project sites.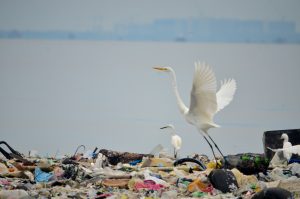 One of Cavite's six major river systems, the Imus River originates in the highlands of Tagaytay and wends through the cities of Dasmariñas, Imus and Bacoor before emptying its contents into Manila Bay. "Cavite alone generates well over a thousand tonnes of solid waste daily," said Cavite Provincial Government Environment and Natural Resources Officer Ms. Anabelle Cayabyab. "What we need is to change the attitude of people in both generating and managing their solid waste because they think the government will always clean up after them. There is no magic solution. We need everyone's cooperation."
The webinar's experts highlighted the dangers of marine pollution, particularly buoys and nets from the fishing and aquaculture industries. "Ghost nets abandoned by fishing fleets kill marine life, which is why fishing vessels should register their nets upon purchase," recommended Oceans Asia Operations Director Mr. Gary Stokes. "We need more accountability from the fishing industry."
NIVA's Dr. Marianne Olsen highlighted the need to harmonize and standardize sampling, monitoring, and reporting systems to get a clearer view of how much plastic flows into our oceans.
Funded by the Norwegian Development Program to Combat Marine Litter and Microplastics, ASEANO is led by the Norwegian Institute for Water Research (NIVA) and the Center for Southeast Asian Studies (CSEAS) Indonesia in close collaboration with the PEMSEA Resource Facility and ASEAN Secretariat under the purview of the endorsing ASEAN sectoral body, the ASEAN Working Group on Coastal and Marine Environment (AWGCME).
The results of the project will be synthesized into a local government training manual, toolkit, and best practices handbook of policy, monitoring tools, and technologies for plastics management that can be used as a reference by local government units in the ASEAN region. The webinar is a run-up to the upcoming East Asian Seas (EAS) Congress, slated for 1 and 2 December 2021.
"We must step up the monitoring of riverine and marine plastic litter to make informed and effective decisions," concluded Deputy Secretary-General of Association of Southeast Asian Nations for ASEAN Socio-Cultural Community Ekkaphab Phanthavong. "This event promotes solutions for healthier rivers and coasts in the ASEAN, which is vital because millions of people depend on them for their lives and livelihoods."