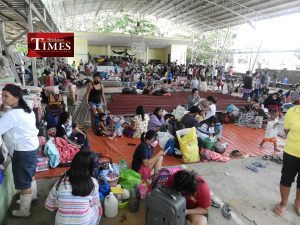 IN an updated report, around 9,000 families were evacuated by the Davao City disaster and rescue teams to temporary shelters due to flooding after the Davao River overflowed caused by torrential rains on Nov. 10.
The total number was based on the partial list obtained from the City Social Welfare and Development Office (CSWDO). 
Lawyer Marlisa Gallo, the head of the CSWDO, in an interview with the City Information Office, bared that as of 6 PM of November 10 a total of 13 barangays namely: barangays
2-A with 894 affected families, 5-A with 1,325 affected families, 8-A with 1,300 affected families, 9-A with 918 affected families, 10-A with 679 affected families, 19-B with 449 affected families, Maa with 959 affected families, Matina Crossing with 1,403 affected families, Tigatto with 1,490 affected families, Waan with 457 affected families, Bantol with five affected families, Buda with 48 affected families and Tamugan with 40 affected families. 
She said that the number included the affected families who did not take shelter to evacuation centers. 
The majority of the residents in the affected areas took shelter to evacuation centers but those areas with much higher flood levels are advised to stay longer and to only return to their homes once the flood subsides. 
"We have given them food so far," Gallo said they are still assessing damaged properties. So far, she said three houses are partially damaged in Marilog District. 
Gallo said that as the city prepared for an immediate response including the provision of hot meals. 
City Risk Reduction and Management Office (CDRRMO) increased water levels in Davao River, Matina River, and Lasang River was caused by rainfall and thunderstorm caused by brought system known as Tail End of Frontal System affecting the city and nearby areas. 
CDRRMO reported that residents were given warnings even before 12 midnight. The office also advised barangays near Davao River to sound their sirens to conduct the preemptive evacuation.