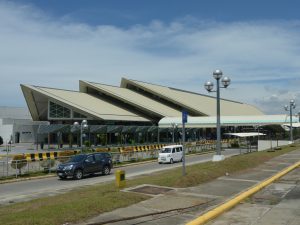 THE LIFTING of the mandatory RT-PCR negative result is still being discussed as Mayor Sara Duterte has maintained a "test before travel" requirement for inbound passengers.
The mayor bared this during the 87.5 Davao City Disaster Radio (DCDR) Special Hours program aired on Monday, Nov. 9.
She said, "Nahisgutan napud na sya and nadiscuss na namo na sa airport team (We have talked about that and it was discussed with the airport team). That will come also. Kana tanan mubalik na na sya tanan, shifting into the new normal nato samtang naa pay pandemic (Everything will return to the way it was before, shifting into the new normal amid the pandemic).
Davao City Ordinance 0477-21, Series of 2021 currently requires all air passengers entering the city via the Davao International Airport (DIA) to submit a negative RT-PCR test result taken within 72 hours before departure from the airport of origin and a Safe Davao QR Code, which can be accessed at https://profiles.safe-davao.com/.
She said that the city is shifting towards the new normal considering that there are still unvaccinated individuals who will most likely fuel COVID-19 transmission.
With the new normal, she urged Davaoeños to continue adhering to the public minimum health standards (PMHS), such as wearing face masks, physical distancing, and handwashing with soap and water, and getting themselves vaccinated until the target herd immunity is reached.
Duterte added, "We'll find a way of conduct gatherings in a safe way, hinay-hinay sa mass gatherings nato (slowly easing on our mass gatherings), press on to continue proper ventilation sa mga sakyanan (in vehicles), campaign for everyone to conduct activities in an open area. Finally, ang patambal gikan sa (medication from) Merck and Pfizer. While we are doing all that maghinay-hinay ta og release og breaks (we will gradually release breaks)."
She cited the lifting of the curfew, lifting of barriers for motorcycles and public utility jeepneys (PUJs), and the voluntary use of face shields in 3C settings (close contact, close areas, crowded places), and the modified liquor ban from 1 a.m. to 8 a.m. daily.
In a Viber interview with Davao COVID-19 Task Force Spokesperson Dr. Michelle Schlosser on Tuesday, Nov. 9, she said the city has not yet received any guideline from the Inter-Agency Task Force (IATF) for the Management of Emerging Infectious Diseases or from the Department of Health on the lifting of the test before travel requirement.
"We cannot have an opinion on that. All we can give is the fact. As of the moment, wala paman tay (there's no) advice or guidelines yet from IATF or DOH. Whatever existing EOs, ordinances we have, we will abide by it," Dr. Schlosser said.