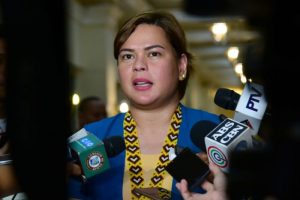 MAYOR Sara Duterte reminded Davaoeños anew not to fall prey to fraudulent financial schemes and urged them to report to the city's Anti-Scam Unit to bring down the perpetrators.
During an interview on Monday over the Davao City Disaster Radio (DCDR), Duterte said that they received complaints from the public against this new money scheme victimizing the public, specifically the Repa Paluwagan – an informal group using a money-lending system claiming to generate a high return in investments.
"Ang Anti-Scam naa silay mga gina-monitor very recently katong Repa. Gina-monitor na siya sa atong Anti-Scam Unit. Mag-remind ta sa mga tao to be careful when it comes to your money because daghan nag klase nga mga scam (The Anti-Scam Unit is recently monitoring Repa. I would like to remind the public to be careful when it comes to your money because there are a lot of scam activities now),' she said.
The Securities and Exchange Commission (SEC) Davao issued a statement in October warning the public against the new investment scheme, which is considered a "Ponzi Scheme" with operations in Davao, Bohol, Bukidnon, and Cebu.
Based on the advisory, the persons behind Repa/Repa Paluwagan act as "administrators" and "sellers" and communicate with their victim-buyers through Facebook Messenger, or other chat groups and personal transactions. They offer "limited slots" for investment packages where one may invest P50,000 promising a return of P20,000 or an equivalent of 40% interest in just two weeks.
SEC-Davao said that this entity is not a registered corporation and is not authorized to solicit investments/placements from the public nor issue investment contracts and other forms of securities.
"Daghan scams nga ginatake-on sa atong scam unit with regards to money. Mag-remind ta sa mga tao nga pananglitan ang imohang kwarta P1,000 mahimo ng P10,000 sunod semana, mga ing-ana. Most likely, scam siya so unbelievable kaayo ang mga process (Our Anti-Scam Unit is investigating a lot of complaints against various scams. I'd like to remind the public not to fall prey with these schemes with unbelievable processes)," Duterte said.
The mayor said the public should report this kind of activity and seek the help of the Anti-Scam Unit for immediate action and proper investigation.
"Investment scams or kanang high return, high yield kuno nga investments, [be] careful with your money and kung naay individual nga nagduol sa inyo and i-report dayon sa anti-scam unit para dili na daghan ang mabiktima (Be careful with your money and report individuals engaging in this kind activity to prevent more victims)," she said.