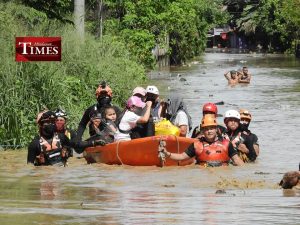 THE CITY Disaster Risk and Reduction Management Office (CDRRMO) reported that 969 families were affected and evacuated due to the rising floodwaters that submerged eight barangays on Wednesday dawn.
In a phone interview with CDRRMO Chief Alfredo Baloran, he said that, in their initial report, the affected families consisted of 3,802 individuals as of 2 p.m. (Nov 10) who were evacuated as of Wednesday dawn due to swelling Davao River.
Baloran said those affected areas from Barangay Tigatto down to Bucana.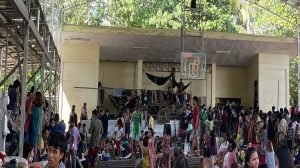 Eight barangays affected in the city located in Purok 12 of Bucana, Purok Aquarius and Capricorn in Lasang, Purok 17-B Lower Madapo, Purok 60 and A in Barangay 5-A, Las Terrazas in Barangay 19-B, Purok 8 and El Rio phase 5 , El Rio phase 4B in Barangay 19-B, Sitio Camamara in Barangay Waan, Portions of Juliville, Jade Valley and Sitio Uyanguren in Barangay Tigatto, Purok 27 and Abahin compound in Maa, Purok 19 in Don Julian Gem village, Purok 20 Sanggilangan in Gem village, Purok 27 and Purok 20 in Maa, Purok 6 and 4 in Barangay 10-A, Matina gravahan in Barangay Matina crossing, these are the barangays affected when the water level rises in Lasang while the other barangays affected by in Davao river.
He explained that the Davao River overflowed due to the heavy rains in the upland areas, particularly in Paquibato and Marilog districts, and in San Fernando, Bukidnon. Water accumulated from the two consecutive days of heavy rains in those areas.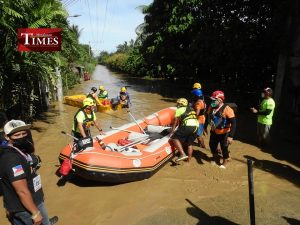 Accordingly, around 11 p.m. on Tuesday, residents from those affected areas were informed of a preemptive evacuation after the city disaster noticed the increase of water in the upland areas. By 4 to 5 am, families were forcibly evacuated until the waters subsided on Wednesday noon.
For now, the families affected were already in the different evacuation centers of their barangays, some already returned to their homes. But they immediately went back to the evacuation centers when the rain started pouring in the afternoon.
There was no reported injury or casualty during the incident, which he attributed early advisory to the residents, Baloran added.
As of now, the City Social and Welfare Development Office (CSWDO) is still conducting an ongoing evaluation of the affected individuals.
Moreover, he advised those residents living at the riverbanks to be on alert and follow further advisories and warnings from the barangay disaster management center.
"They should also follow advisories for the possible preemptive evacuation so that there will be no casualty or individuals that will be rescued," he further said.