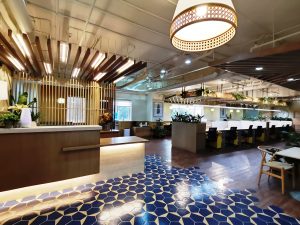 QUADRUPLE A developer DMCI Homes continues to carry out enhancement works on its Verdon Parc development in Davao City to help residents better adapt to "new normal" living.
After completing the seismic upgrades on the project's four residential buildings, DMCI Homes is also building a shared workspace facility for the exclusive use of residents.
Dennis Yap, DMCI Homes vice president for project development, said the introduction of the facility is inspired by the warm feedback received by the company's first coworking space that was opened last July in Lumiere Residences in Pasig City.
"A lot of residents found the facility helpful and convenient for their remote working and distance learning needs. So we're also making this available to our residents in Verdon Parc to address their new normal needs," Yap said.
In the past few months, DMCI Homes has been busy making the three-hectare resort-inspired development along Ecoland Drive, all the more conducive for remote working, distance learning, and doing indoor recreational activities.
"We've made available Wi-Fi service in common areas among other services upgrades to make it more convenient for residents to do their work, school, or personal chores in the comfort of their community," Yap said.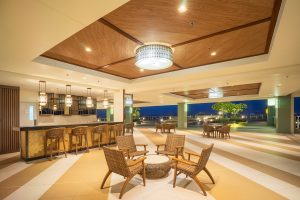 Apart from creating a convenient workspace, Yap said DMCI Homes continues to enhance Verdon Parc's resort-inspired amenities to further promote the health and wellness of residents amid the lifestyle changes brought about by the coronavirus pandemic.
Known for its healthy building designs and expansive open spaces in its developments, DMCI Homes is making available more amenity spaces where residents can unwind and enjoy their leisure time.
When the entire project is completed, Verdon Parc will offer almost 1.5-hectare of amenity spaces that also include a Grand Clubhouse, lap pool, kiddie pool, leisure pool, fitness gym, open lawn, entertainment room, children's play area, jogging paths, function rooms, multi-purpose court, and podium deck garden.
Additionally, all four buildings of the project —Martel, Belvedere, Trevans, and Maurin will also feature DMCI Homes' healthy building design which translates to bringing the outdoors in via landscaped atriums to create a feeling of calm and wellness inside the residential buildings.
Belvedere, Trevans, and Maurin buildings also bear DMCI Homes' Lumiventt® Design Technology, which allows light and fresh air to permeate the structure and all unit spaces within through three-storey high openings called Sky Patios.
Likewise, these three towers all have expansive roof-decks that offer breathtaking 360-degree scenic views of Samal Island and Mt. Apo. 
"Verdon Parc's modern tropical design fits perfectly with Davao's tropical environment, great views, and surrounding ocean, giving residents a genuine vacation paradise vibe," Yap said.
"Also, with its excellent location near commercial and business districts and everything essential in the city, we are proud to say that Verdon Parc is a future-proof development that is ready to address the evolving needs and preferences of our residents," he added.
Verdon Parc is one of the developments of DMCI Homes, the country's first Quadruple A real estate developer known for building quality resort-inspired communities in Mega Manila, Baguio City, Boracay, and Davao City. Each of its properties is built with world-standard craftsmanship borne from D.M. Consunji Inc.'s over 60 years of expertise in the construction and development industry.
To learn more about Verdon Parc and other DMCI Homes' pre-selling and ready for occupancy projects, units for lease, and special promos, call (682) 2970447 and (682) 327-3438 in Davao and 324-8888 in Manila. You can also visit leasing.dmcihomes.com to know more about opportunities in leasing and rent-to-own programs of DMCI Homes. News and other updates are also posted on the company's official website and its social media accounts on Facebook, Twitter, Instagram, and YouTube. PR