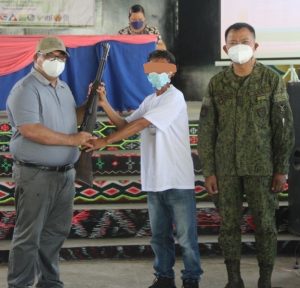 A 47-YEAR-old B'laan and an alleged member of the New People's Army (NPA) surrendered to the soldiers of the 39th Infantry Battalion in North Cotabato on Nov. 7.
Lt. Col. Ezra Balagtey, the 39IB commander, identified him only as Alias Jorry, B'laan and resident of Sitio Datal Biao, Barangay Danlag, Tampakan.
Balagtey said alias Jorry was a member of Guerilla Front ALIP of the Far South Mindanao Region recently surfaced and surrendered to Tampakan Municipal Task Force in Ending Local Communist Armed Conflict (MTF-ELCAC) chairman Leonard T. Escobillo during the culmination program of the three-day peacebuilding seminar held at Tampakan National High School.
He said the surrenderee gave up all his weapons that included an M16 rifle with a short magazine and an M1 Garand rifle. The activity was participated by 63 members of the New People's Army Underground Mass Organization and seven NPA rebels conducted by the Tampakan MTF-ELCAC.
According to the military, the participants came from Barangay Danlag, Tablu, and Palo 19 of Tampakan, South Cotabato who recently cut their ties and denounced their affiliation with the CPP-NDF-NPA.
Likewise, the participants submitted a project proposal to the LGU that mostly tackled livelihood enhancement. Also, they expressed their support to the barangay development programs after internalizing the purpose of contributing to the peace and development of communities.
Restituto Macuto, regional director DSWD XII, during his message, encouraged everyone to be advocates of peace.
"We are always thankful for the fact that you have seen the efforts of the government to give you a good life, if not the best, for you to understand the importance of living in peace and harmony. We are also thankful to our military personnel who are more than dedicated to solidifying peace and order across the country as they have been guided with the whole-of-nation approach," Macuto said.
The PBS is a three-day program that aims to reorient and redirect the former UGMO members from NPA propaganda. The program includes information awareness on programs and services of the government and other partner stakeholders to address the issues being exploited by the NPA in its recruitment activities.