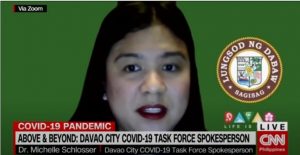 THE CITY government will no longer allow home isolation for mild and asymptomatic COVID-19 patients.
Dr. Michelle Schlosser, spokesperson of the COVID-19 Task Force, said the city government is only allowing those who have started home isolation to complete their schedules as new ones will be brought to temporary treatment and monitoring facilities whose occupancy has been drastically reduced due to the decreasing number of cases in the city.
"[I'd like] to confirm that starting today, [November 3), wala na tayong home isolation. Ipa-complete nalang natin 'yong currently naka-home isolation," Schlosser said. New cases since November 3 have been admitted in TTMFs.
In September, the city government decided to adopt home isolation because of the high number of cases as the approach reduced the number of cases being brought to hospitals and TTMFs.
Under the home isolation policy, only mild and asymptomatic patients can do their quarantine at home provided they adhere to regulations such as separate bedrooms and bathrooms as t
It can be recalled that in September, Davao City COVID-19 Task Force has started allowing positive patients to stay home due to the surge in the number of cases, provided that they are not living with any vulnerable to the illness, like children, elderly and those with comorbidities.
"We are going to stop home isolation because ang clause ng home isolation – we only allow home isolation if may surge. Currently, we are not anymore within the surge. Wala na tayong surge so therefore, wala ng reason para mag-home isolation because we have enough number of COVID beds. Dili nata magkulang. So, even 'tong mga asymptomatic, we can accommodate them sa atong mga TTMFs," Schlosser said.