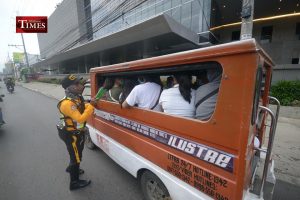 THE City Transportation and Traffic Management Office (CTTMO) has drivers of public utility vehicles (PUV) to adhere to the 70% capacity policy, or face the possibility of getting fined.
Dionisio Abude, CTTMO chief, made the warning as the city government issued an order lifti
ng the plastic barriers in passenger vehicles including pillion-riding.
Abide reminded passenger vehicle drivers and their passengers to ensure that physical distancing is observed even without the plastic barriers. Otherwise, traffic enforcers will be forced to issue citation tickets if violation of the policy is committed.
"Pahunongon gyud siya, kung sobra sa kapasidad, tiketan sila. Kay kung dili gud nimo tiketan magpadayon ang mga driver kay ok raman. Muagi man gyud sila og mga enforcer, muagi man gyud sila sa mga loading bay, mga yellow box, so makita gyud na more than sa capacity sa ilaha so matiketan sila ug kanunay sila matiketan luoy pud kaayo sila," he said, urging vehicle operators to also remind their drivers about the poicy.
Drivers, he added, are the ones responsible for ensuring that the 70% carrying capacity of their vehicles is not violated and that physical distancing is maintained.
"Ang driver man gud unta ang dapat naay control, pagtan-aw ang kapasidad sa iyang sakyanan mao nagyud na siya..kung magpadungag siya iya na nang risk pag makita siya sa enforcer unya madakpan siya luoy kaayo siya. Dapat magdisiplina gyud ang mga driver," Abude said.
On Tuesday, Mayor Sara Duterte signed Executive Order 63 which lifts the use of barriers in passenger vehicles, including motorcycles.