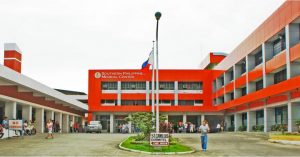 THE CITY government has designated the Southern Philippines Medical Center (SPMC) as the sole hospital that is allowed to admit COVID-19 patients, unless private hospitals need to help in accommodating these cases.
Signed by acting mayor Sebastian Duterte,, Executive Order  60 Series of 2021, which took effect immediately, has assigned the government hospital as the single hospital that will attend to COVID-19 patients.
In justifying the move, Duterte said it would be better to designate a single hospital to attend to these patients as the number of daily cases has continued to decrease.
"Designating a single hospital to cater to COVID-19 confirmed cases will protect healthcare personnel assigned in other hospitals from exposure to workplace-acquired COVID-19," he said, pointing out that the order will allow private hospitals to use the COVID-19 beds to other cases.
The order also specifies that private hospitals will support SPMC so that it will be the only one to admit COVID-19 cases and that they also help in case another surge in COVID-19 cases takes place.
The city government and the regional office of the Health department will inform private hospitals when their help is needed in addressing COVID-19 hospital admission.