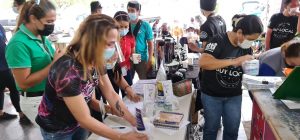 MATI CITY, Davao Oriental – The Department of Trade and Industry (DTI) office here has a unique way of promoting the coffee industry in the province. 
While October is a significant month for coffee and consumers, the agency has made it more memorable with the conduct of its first-ever "Pa-Kape Para sa Konsumante" recently. 
The International Coffee Day was first declared in 2015, marking the 1st day of October of every year as the day of the annual celebration. It is celebrated not only to commemorate one of the most loved beverages in the whole world, but more importantly, to honor the people behind each cup of aroma-filled drink that rejuvenates coffee drinkers in every sip.  
On the other hand, Presidential Proclamation No. 1098 dated September 26, 1997 declared the whole month of October to as the "Consumer Welfare Month" to give due importance to consumer rights and responsibilities. 
With the "Pa-Kape Para sa Konsumante" information campaign, the DTI-Davao Oriental was able to hit two birds with one stone, so to speak, as it transformed the main entrance of the ER Supermall in Mati City into a nook for coffee lovers while highlighting both celebrations 
"Coffee, being one of the province's emerging industries, we want to maximize its potential. With its development, we could realize a domino effect – from contributing to the economy to generating investments and creating more job opportunities," DTI-Davao Oriental provincial director Rommel R. Cozo said.  
So far, the province has 5,687 hectares of coffee plantation, which have been producing an average of 1,663 metric tons per year. In the meantime, there are 4,544 farmers involved in coffee farming in the entire province.
The trade official added that offering the product to the consumers for free is a good marketing strategy to introduce it to potential buyers. 
"What we want for our coffee industry is for it to widen its market consistently. And we can only do that if we are consistent with our efforts to promote it," he said. 
The "Pa-Kape Para sa Konsumante" featured the coffee products of the micro, small and medium enterprises (MSMEs) from Lupon, Manay, and Baganga and the services of Jay's Artisan Coffee, a pop-up café. It was served to 109 consumers, who were also provided with information materials on how to protect themselves in the digital realm, particularly against the risks of internet scams and other forms of deception.  
"This year's Consumer Welfare Month theme is 'Digital Consumers: The New Normal.' So we saw the activity as a venue where we can strengthen our consumers' awareness of their rights and responsibilities as users of digital platforms," Cozo shared while encouraging the public to become vigilant and empowered consumers.  
Provincial Director Rommel R. Cozo stated that the Department will continuously provide support to local MSMEs, especially those in the priority industries like coffee, cacao, and coconut, by enhancing, improving, promoting and patronizing their products. Seminars and training will be provided to develop or improve products in terms of labeling, packaging, and shelf life. Market promotion will also be intensified to ensure that local products find their way in the market, be it physical or online. 
The provincial head of DTI also committed to provide support both to the coffee industry and consumers continuously. He even cited the several programs and projects the office has been extending to them, which include the industry cluster development and promotion, competitiveness enhancement, conduct of Presyo Diskwento Caravan, Safety Seal Certification, among others. PR