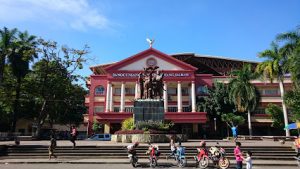 THE CITY government has identified eight barangays as high risk even as the number of daily COVID-19 has continued to decrease.
The status of these barangays, which are identified through the barangay classification matrix, will be until November 6. Considered high risk are Barangays 28-C, 38-D, Agdao Proper,  Atan-awe, Bago Oshiro, Mulig, New Valencia and Ubalde.
Those identified as moderate risk are Barangays 3-A, 4-A, 27-C, 29-C, 36-D, A. Angliongto Sr., 
Biao Joaquin, Cabantian, Catalunan Grande, Lacson (Calinan), Matina Crossing, Mintal
Suawan (Tuli), Tacunan, Tungkalan and Wangan.
Moderate risk barangays because of their proximity to high risk barangays are 15-B, 24-C
25-C, 26-C, 30-C, 35-D, 37-D, 39-D, Bago Gallera, Baliok, Bangkas Heights, Baracatan, Biao Escuela, Catalunan Pequeño, Centro (San Juan, Agdao), Gov. Paciano Bangoy (Agdao), Kapt. Tomas Monteverde Sr. (Agdao), Lapu-lapu (Agdao), Leon Garcia (Agdao), Manambulan, New Carmen, Rafael Castillo (Agdao), San Antonio (Agdao), Sibulan, Sto. Niño (Tugbok), Talandang, and Wilfredo Aquino (Agdao).