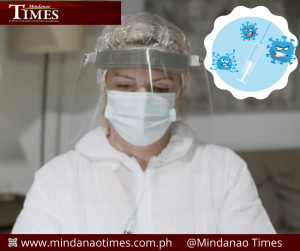 THE CITY government and the Department of Health (DoH) XI regional office have held discussions for the administration of booster shots of COVID-19 vaccines for medical health frontliners as the first eligible sector to receive additional protection.
Dr. Michelle Schlosser, during the Bida Bakunado Program over the Davao City Disaster Radio (DCDR) On Friday, the City COVID-19 Task Force spokesperson, confirmed that talks with DOH-XI are ongoing in preparation of the booster shot vaccination.
Schlosser said there is no date yet when to roll out the booster shots for the medical health frontliners. 
"We do not have the update yet as to when, but yes, I would confirm na meron na tayong usapan about sa booster dose labi na gyud sa atong frontliners (We do not have updates as to when but yes, I would confirm that there are already talks about booster dose especially for our front liners)," Schlosser said. 
According to reports, the DOH is already discussing the rollout of a third dose to select eligible groups of people such as healthcare workers, senior citizens, and persons with comorbidities. 
Recall that Mayor Sara Duterte bared that the Davao City COVID-19 Task Force has passed a resolution requesting DOH-XI to roll out booster shots for health care workers in all hospitals in the city. The mayor said that the TF saw the need for a resolution in line with the manpower challenges in the hospitals brought about by the pandemic.