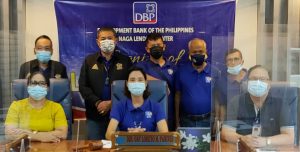 STATE-RUN Development Bank of the Philippines (DBP) has approved P80-million in funding assistance for the construction of two 20-MVA substations of the Camarines Sur II Electric Cooperative (CASURECO II) to be located at Pili and Barangay San Felipe in Naga City, Camarines Sur.  
Implementation of these projects will improve the electric cooperative's operational efficiency, reliability and safety, allowing it to accommodate the load requirements of the proposed Industrial Park in the area and other new customers, and to augment present load capacity. CASURECO II expects to generate 10,000 new connections in the next five years. 
Established in 1980, CASURECO is the biggest electric cooperative in the province, and it marks the first time in its operating history that it would be availing of funding assistance from a financial institution such as DBP for its capital expenditure requirements.
Shown in photo during the signing of the loan agreement are (seated, from left) CASURECO II General Manager Emelita Candia and Board President Gay Loreto Pabines, with DBP Senior Assistant Vice President Ariel Pena. At back are members of the Board of Directors of CASURECO II.