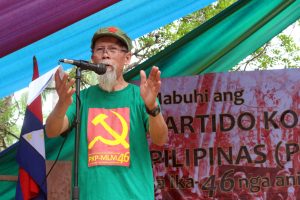 A TOP leader of the New People's Army was reportedly killed in a clash with soldiers at the mountainous area of Sitio Gabunan, Barangay Dumalaguing, Impasugong, Bukidnon on Oct.30, the military claimed. In a belated report, Jorge Madlos, also known as Ka Oris, was reportedly part of the National Operations Command of the CPP-NPA's Komiteng Mindanao (Kommid), Regional Operations Command (ROC), Regional Sentro De Grabidad Compaq, and Guerrilla front 89 of the North Central Mindanao Regional Command that were conducting indoctrination and teach-ins in the area.
Madlos had a P7.8 million bounty on his head. The 403rd Infantry Brigade of the 4th Infantry Division launched offensives on the information provided by the village residents reporting of a large group of armed individuals converging in the ara.
At around 11:30 a.m., ground forces conducted the final assault and encountered more or less 30 communist guerrillas. After 30 minutes of firefight, assaulting troops scoured and cleared the area and discovered two abandoned bodies.
They also recovered an M14 rifle, one KG9 rifle, and assorted personal belongings. Maj. Gen. Romeo S Brawner Jr., commander of 4ID, disclosed that Madlos was among those killed. Madlos was the commander and spokesperson of the National Operations Command of the New People's Army nationwide and a member of the Central Committee.
He was also the spokesperson of the National Democratic Front and husband of Myrna Sularte, alias Maria Malaya, the secretary of North Eastern Mindanao Regional Committee (NEMRC). The other body was identified as Eighfel Dela Pena alias Pika/Maui, communications staff, and medical staff of the NOC. (Story developing — Editor)