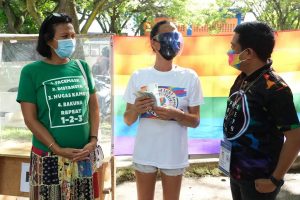 AT LEAST 45 members of the LGBT Davao City Coalition each received a P10,000 financial loan from the city government as additional capital for their small businesses. 
With this, the city's Rainbow MagNegosyo program has already benefited over 500 individuals since 2019. 
Atty. Marlisa Gallo, head of the implementing office City Social Welfare Development Office (CSWDO), and Presidential Commission for the Urban Poor (PCUP) commissioner Norman Baloro were present during the loan distribution at People's Park on Oct. 27.
The cash loan received by each beneficiary is interest-free and payable within two years.
 The monthly payment of the loan amortization, however, will yet start after three months.
Baloro told the City Information Office on Oct. 28 that the livelihood assistance program sector shows the love and support of the local government unit to the city's LGBT sector.
"Napakita lamang naay gugma in terms of social inclusivity. Maramdaman sa amoang sector dili lang hapyaw. Dili lang sa statement na gihigugma mi. This program mabati sa LGBT involved kay napenetrate mi sa program sa government (This shows the city government's love in terms of social inclusivity, which is felt by our sector. Not just a mere statement of love. The LGBT feels being involved as we have also availed this program of the government). This helps us to be more motivated to be an asset of the community," he said.
The city government of Davao, Baloro said, has earlier allocated a P8.9 million fund for the LGBT's livelihood loan assistance. 
The LGBTs, who are members of the 92 barangay, community, and school-based affiliated organizations with the LGBT Davao City Coalition, can apply for a loan. The LGBT Davao City Coalition will recommend the loan applicant to CSWDO. 
Most of those who availed of the loan worked in salons or owned beauty parlors.
Baloro also said, "Marami ng success stories ang programa. May isa na dati tatlong klase lang niluluto nya ngayon nasa 20 na ang nasa menu nya. Naay isa nga nag milk tea sa kilid karon naa na s'yay store (We have a lot of success stories in the program. There's one who used to just cook three dishes but now he serves 20 dishes on the menu. Another one who used to vend milk tea on the sidewalk now has a store)."
He also cited Rejie Boy A. Mingming, lead convener of the LGBT Davao City Coalition for his leadership. "Mas nag active ug strong ang foundation sa mga LGBT organizations pinaagi pod sa collective effort and support sa mga officers, members, and advisers (Through him, LGBT organizations became active and strong with the collaborative efforts and support of their officers, members, and advisers)," Baloro added.
The beneficiaries also UNDERWENT skills training on financial literacy to help them effectively manage their income. Some good payers, according to him, have renewed their loans and expanded their businesses. The CSWDO regularly assesses beneficiaries.