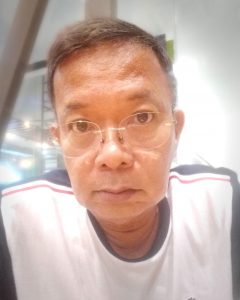 IT'S no joke when, in the midst of this global pandemic that has already claimed many lives, we are left with no other option but to face other ordeals on a day-to-day basis. Aside from the coronavirus, not to mention the many adjustments we have to make in order to avoid catching it, we still have to contend and struggle with the steadily-rising prices of oil and gasoline, which in turn impact on the price of other items, be they food or other necessities. 
Lately, the heavy downpours that had gone on for three nights straight and resulted in both the deep flooding of many places in the city and the rescue of affected residents, sit at the top of the heap of the many burdens that we have to bear as of late. 
So, where to now, St. Peter? (Elton's not smiling.) Of course, while some may treat the floods as an act of God, others look to the housing boom in Davao that had gone on for decades as the most likely culprit. Incidentally, this might have been what a friend hinted at a long ago when she mentioned, real estate is one of the most lucrative business in the city by far. Actually, if one had ever experienced flying into Davao City in the daytime, at the final seconds before landing, you would not miss the seemingly endless flatbed of roofs on your plane window. For one moment, you'd think our airport was uniquely made of such. 
Count back twenty or more years. There used to be a time during my college years when the whole stretch of Tomas Claudio (now E. Quirino St.) was closed to traffic. The sides of that street were deeply-gutted and lined with huge cement culverts for supposed-improvement of our city drainage. Any davawenyo might also remember the same thing being done on other main streets such as Ponciano, Bajada and Agdao, etc. 
Question is, were these improvements supposedly enough? If so, why the flooding still? Or… have city planners factored in population growth and movement of people? 
I'm sure they have but, I remember when working as a lobbyist at an NGO during the 80s, a local resolution was approved to open up parts of watershed areas south of the city for the construction of a subdivision. done by a known contractor. 
Just how necessary is it to flatten mountains, creeks and streams in order to accommodate a growing population? Is there a compromise somewhere? If these were feet, would one trim the toes in order to accommodate in-grown toenails? And because we have fingers, should we therefore use these to point, pass the buck and not use our grey matter to arrive at a solution? Like the game of Monopoly, it might be back to square one on this, people. After all, the time is right and the election is just around the bend. During that time, do not leave your brains behind.