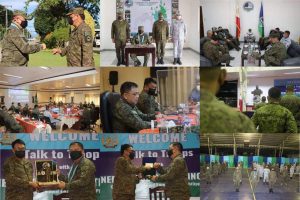 THE ARMED Forces of the Philippines chief of staff lauded the Eastern Mindanao Command (EastMinCom) for setting the military standard in combatting communist insurgency in the country during his official visit to the Naval Station Felix Apolinario, in Barangay Panacan, Bunawan District on Oct. 27.
Gen. Jose C. Faustino Jr., who served as the EastMinCom commander before becoming the acting commanding general of the Philippine Army and AFP Chief of Staff, said that he made sure to visit the command before he ends his long military career. 
The outgoing AFP chief of staff said that EastMinCom troops played a vital role in helping the AFP earn the highest approval rating among government agencies in the country, citing the result of the latest non-commissioned survey conducted by independent pollster PUBLicus Asia, Inc. where the AFP got a 67% approval rating. 
Faustino expressed his gratitude to the troops for their contribution to the AFP's accomplishments, emphasizing the significant role of EastMinCom in maintaining and facilitating sustainable development in Eastern Mindanao. 
The AFP chief also did not fail to commend the incumbent EastMinCom commander,  Lt. Gen. Greg T. Almerol, for maintaining the command's tradition of excellence, saying that he had personally witnessed how the latter has strived to further improve EastMinCom's operations. 
"If you look at EastMinCom's accomplishments and compare it to other commands and divisions, you will see that nothing compares to it. EastMinCom is being looked up to because of its best practices. It has become the standard on how to fight the insurgents," Faustino said. 
"I would also like to congratulate EastMinCom on its recent successes in the neutralization of communist terrorists, focused military operations, and also on its intensive stakeholders' engagement and collaboration," he added. 
Meanwhile, the AFP chief also reminded the troops to do their best in ensuring a safeand clean national election in 2022.
Faustino took the reins of the AFP on July 31, 2021, after his stint as the first-ever commander of the new Joint Task Force Mindanao on June 4. He became the 12th commander of the EastMinCom following his stint as commander of the 10th Infantry Division.