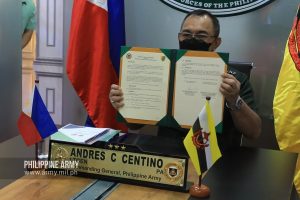 THE PHILIPPINE Army and the Royal Brunei Land Forces (RBLF) held a virtual signing of the Amended Terms of Reference (TOR) on Oct. 25, 2021, at Fort Bonifacio, Taguig City.
Lt. Gen. Andres C. Centino, the commanding general of the Philippine Army, and Brig. Gen. Haji Muhammad Haszaimi bin Bol Hassan, the Commander of RBLF, signed the TOR on the Army Working Group jointly established by PA and RBLF.
Army spokesman, Col. Xerxes Trinidad, said the TOR serves as a guide in implementing the Memorandum of Understanding on Defense Cooperation between the two countries.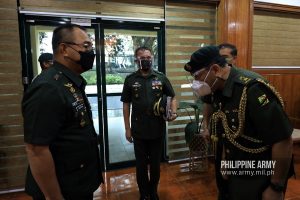 During the virtual event, the Army chief recalled the 2nd Brunei-Philippines (BRUPHIL) Army Working Group, which developed 12 bilateral military cooperation and interaction for 2022. He also expressed optimism on the success of BRUPHIL activities amid the pandemic.
"Hopefully, this collaboration will continue beyond this pandemic. More than ever, we should demonstrate solidarity in this time of trial and crisis. I know we are in tough times, but being united, we will rise again," said Lt. Gen. Centino.
"The Philippine Army is looking forward to the prospect of future collaborations and successful execution of our bilateral engagements that we have lined up for next year," the Army Commanding General concluded.