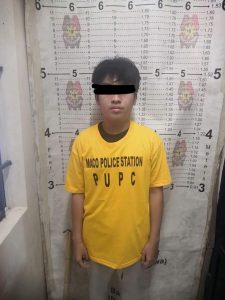 A 19-YEAR-OLD student was arrested by elements of the Maco police after he failed to pay more than P500,000 in bet money for online sabong on Monday, Oct. 25.
Maj. Jefferson Masirag, the Maco Police Station commander, identified him as Erick John Somadela Suelto, a resident of Purok 2 Poblacion in Maco, Davao de Oro.
According to the report from the Police Regional Office XI, around 8 p.m. on Monday, Jerrelyn Rotimas Acosta, supervisor of Bong Fours Isobel online gaming place, asked assistance after Suelto failed to pay P561,000 after losing in digital cockfighting in Maligaya, Binuangan, Maco.
 After verification, personnel apprehended the suspect and he was turned over to the Maco Municipal Police station for proper disposition. The personnel of Maco MPS are now preparing documents to file the appropriate charge against the suspect.