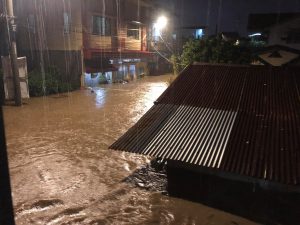 THE CITY Disaster Risk Reduction and Management Office (CDRRMO) did not receive reports of casualties except for many families who have been temporarily evacuated during flooding after rivers and creeks overflowed to nearby residential areas on Monday night. 
Monday night's heavy rain inundated many parts of the city and caused the swelling of rivers and creeks. 
Alfredo Baloran, the Head of the CDRRMO, told the Davao City Dis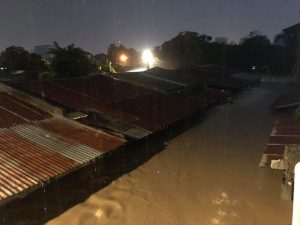 aster Radio on Tuesday that his office has not recorded casualties either injured or dead after the flooding. He said the early warning and announcement to evacuate helped people get ready for eventualities.
 "Ang na-receive namo nga [report] gabii ang nibalibad na mag-evacuate. Naa gihapon pipila nga kaigsuonan nato nga dili gyud sila magpa-evacuate kung wala pa tung tubig sa ilang panimalay (What we received last night are reports that some people are refusing to evacuate. There are still people who will not evacuate until the water enter their house)," Baloran said.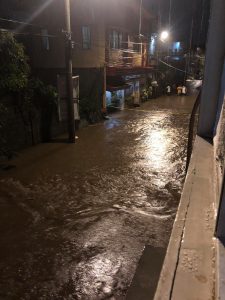 Barangay Captain Nilo Cabiles of Cabantian told the Davao City Disaster Radio on Tuesday afternoon said that more or less 250 households in Laverna Hills were affected by the flooding incident.
He said that while the affected residents have returned to their homes, they are requesting medicine for leptospirosis. They also need extra clothes and food, which may be directed to the purok leaders or the parish in the area.
Cabiles said that a total of five households were also rescued in Soraya Subdivision. As the water already subsided, the residents already returned to their respective houses.
"May ipapasuyod pa kami sa Dragon Compound namin, malamang kasi may creek din diyan na galing sa Villa Park. Ang Villa Park punong punong din ng tubig, sigurado ako na may 80 families na naapektuhan, and sa Santa Teresita yung bahay sa may creek mismo, meron din siguro ditong more or less 30-35 families (We need to scour other areas such as Dragon Compound where there is a nearby creek and water flows to Villa Park which is also flooded. There may be 80 families affected in the area and Santa Teresita since there are those who live near the creek – there are more or less 30-35 families)," Cabiles said.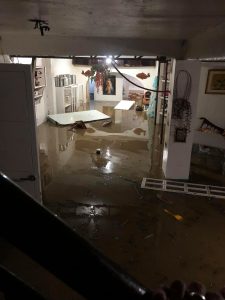 The overflow of Matina River also led to the evacuation of some residents in Matina Pangi and Matina Crossing. 
Barangay Captain Joel Santes of Matina Crossing, also in an interview with the DCDR said that 600 families evacuated to the Barangay Matina Crossing Gym. The residents temporarily occupied all four floors of the building and have returned to their homes when the flood level subsided.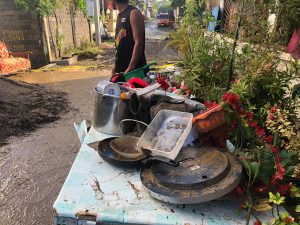 Santes said that, fortunately, the water did not swell up unlike that of the 2011 flood incident. He added that flood mitigation measures are already in place near the river area and some residents have constructed additional floors of their houses. 
Motorists were also stranded due to street flooding along Roxas Avenue and J.P Laurel that was due to "sea-water rise from waters in big rivers which back-flowed," the flood level reached as high as more than one meter.
 Baloran said that Monday's thunderstorm was brought by Intertropical Convergence Zone (ITCZ).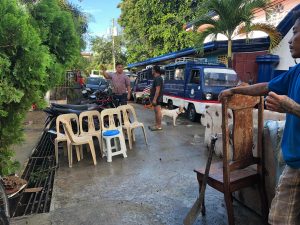 "Kining ITCZ kusog man gud mag create ug thunderstorm, breaking ground man gud ni sa LPA nga mahimo ug bagyo (This ITCZ often creates thunderstorms. It is the breaking ground of LPA that creates typhoons)," Baloran added. 
Baloran reiterated his call for people to be more cautious and mindful as La Niña brings heavy downpours which could suddenly occur during the day and is expected to stay until the first quarter of next year, 2022.
"Kanunay na mang-inandamon ilabina na ang nagpuyo kilid sa mga dagkong suba sa Davao ug ubos na bahin sa impact area nga dali lang maapektuhan kung naay pagtubo sa tubig sa dagkong suba ug kadtong nagpuyo duol sa creek, tugod kay kini una mag overflow bag-o ang mga dagko nga suba (People should prepare especially those who are living along the big rivers and the impact areas which are easily affected by the swelling of big rivers and also those who are living near the creeks since they are the first to overflow before the big rivers)," Baloran said.